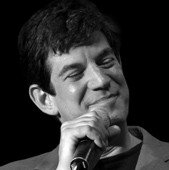 Late Night Jazz: John Malino Band
DATES:

Wednesday, Jan 11, 2012:  10:30PM

"Jazz with Lotsa Pizzazz- Malino, a multi-talented singer-guitarist, heads the playful jazz quintet, and has been compared to Harry Connick, Jr. and the young Frank Sinatra." --- Daily News
Singer-guitarist-bandleader John Malino will wow you with his velvety voice and mischievous style while swinging with the very best jazz musicians in the business. Whether the Band is playing jazz standards or something a little more out-of-the-box (Hank Williams, Jimi Hendrix), they are loose and fun! Be on the lookout for special guests.
Featured musicians for Wednesday, July 13th: Jim West (piano), Melissa Slocum (bass), David F. Gibson (drums), and Lily White (sax).
Visit www.malino.com for more info