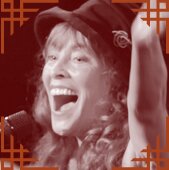 Gay Marshall: "PIAF: Queen of Heart"
DATES:

Gay Marshall's timeless, stunning concert offering, "PIAF: Queen of Heart", is based on her recent recording, Gay Marshall Sings Piaf: La Vie l'Amour. Her vivacious and original take on Edith Piaf is far from the traditional perception of Piaf as a tragic icon. Instead, Marshall presents a versatile powerhouse of heartwarming and heartbreaking emotion, full of personality and humor. She delivers the dramatic repertoire – including her own English adaptations - with stirring authenticity, and not a hint of imitation. Her song selection is an unusual mix of the well known (L'Accordeoniste and Padam Padam) and the rare (Avec Ce Soleil and The Lady From Pigalle), accompanied by a superb ensemble. The original arrangements by Marshall and Paul Bevan are a refreshingly modern take on a classical theme.
"It takes a brave singer to take on the Edith Piaf songbook," wrote Time Out New York of Gay's recent New York appearances, "it takes a special one to pull it off so heart-piercingly."