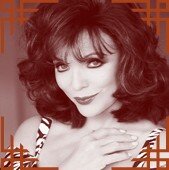 Joan Collins in Feinstein's at Loews Regency Ballroom
DATES:

"One Night with Joan" featuring in our Regency Ballroom! FEINSTEIN?S AT LOEWS REGENCY, the nightclub proclaimed ?Best of New York? by New York Magazine, and ?an invaluable New York institution? by The New York Post, continues its Fall 2010 season with the special debut engagement of living legend JOAN COLLINS from November 16 ? 27. In ?One Night With Joan? Ms. Collins will share the stories and secrets of her celebrated career as one of the world?s most glamorous and intriguing personalities. With the same engaging wit and frankness that turned her two memoirs Past Imperfect and Second Act into New York Times best-sellers Ms. Collins takes to the stage with honesty, style and grace. When the show debuted in the United Kingdom, the Times of London hailed Joan as ?riveting,? ?endearing? and ?a terrific storyteller.? She recently won the ?Best Actress Award? in the New York International Film Festival for her role in the film Fetish and is currently preparing her latest book The World According to Joan.
For this special engagement all performances will take place in the Regency Ballroom of the Regency Hotel (540 Park Avenue at 61st Street).
FEINSTEIN?S AT LOEWS REGENCY will present JOAN COLLINS in the Ballroom from November 16 to 27 with the following schedule: Tuesday, Wednesday and Thursday at 8:30 PM; and Friday and Saturday at 8:00 PM and 10:30 PM. Please note: There will be a performance on Monday, November 22, but no show on Thanksgiving Day, Thursday, November 25. Performances have a $60.00 cover with $95.00 premium seats and $125.00 up-front available, in addition to a $40.00 food and beverage minimum. There are a select amount of seats, based on availability, with a $40.00 cover charge and no food and beverage minimum. Jackets are suggested but not required. The club is located at . For ticket reservations and club information, please call or visit TicketWeb.com for tickets.