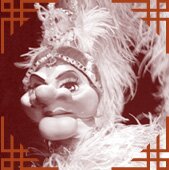 "It's Madame with an E"
DATES:

Starring Madame with Co-Star Rick Skye
Before there was Paris, Lindsay or Britney, there was Madame! The world?s most infamous diva is back in all her glory with a new man on her arm, and the same biting wit that has made her a cultural icon. ?Today to become a celebrity you need a million dollar stylist and a pricey publicist. In my day, all you needed was a cheap pair of knees pads and a wet tissue.?
Having never shied away from telling it like it is, Madame?s new show , It?s Madame With An E promises ?something new, something borrowed, and something oh-so-very blue. So leave the little ones at home or I guess you could crack the window and leave them in the car.?
Madame made her first television appearance on The Andy Williams Show, followed by Rowan & Martin?s Laugh In, Solid Gold and Hollywood Squares. She also starred in for her own nationally syndicated series, Madame?s Place. She is also the recipient of two Emmy Awards Madame has her own FaceBook page and is now Twittering where she notes her general interests ?men, drinking, entertaining, entertaining men who have been drinking.?
"Madame with an E" is a hilarious romp through the life of a legendary lady. Part Broadway musical, part autobiography, this multi media valentine to show business combines the double-entendre comedy material of the beloved character originally created by Wayland Flowers, with up-to-the-minute current event commentary and dishey gossip about Hollywood celebrities past and present. With the help of her friend Crazy Mary, her fabulous gowns and her new co-star Rick Skye, Madame tells her life story which is illustrated with outrageous photos from her personal photo album as well as video of some of her past performances. Filled with songs both original and classic, this show appeals to her army of old fans as well as introducing this iconic American comedy diva to a whole new generation.
?I?ve been through tough times but I?m a survivor. I always tell people all it takes is your own valet, a wardrobe staff and a masseuse. There?s nothing like healing with the help of a new co-star, a dry martini and a packed house
Adult Show - no children allowed