Peter Samelson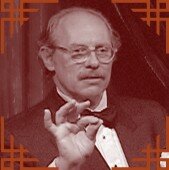 Magical Nights Inc Presents . . . PETER SAMELSON Sleight-of-Hand Artist, ?Mind-Reader? and Illusionist
PETER SAMELSON insists he doesn?t do magic, he only helps people to see it. He is an illusionist/entertainer/philosopher, blending simplicity and sophistication as he provokes thought and inspires wonder.
Christened ?the soft-spoken conceptualist of sorcery? by the New York Times, Peter Samelson has distinguished himself not only as a magician, but as an artist. He has performed atop the Great Wall of China, in the jungles of Bali and the universities of Tokyo. He has performed for Mexican peasants and Grand Prix racecar drivers. He has entertained Princess Stephanie of Monaco, the jet-set of Paris and the fishermen mending their nets on the beaches of Cartegena. From Kenya to the Magic Castle, from television to trade shows, college campuses to commercials, the New York stage, night clubs and celebrity events.
Peter is also a producer of Monday Night Magic, the longest running Off-Broadway Magic Show in New York. He performs and designs for television, film and theater projects including: the musical Houdini, the films What About Bob and Whispers in the Dark, a Kraft Foods commercial, as host on a syndicated 13 part Magic series, appearances on the Today Show, CNN's Sonya Live! and the PBS Special, The Art of Magic. He has created and starred in two critically acclaimed one-man Off-Broadway shows; The Magician and PaperWork and is known in the ?magic community? as a highly regarded performer, lecturer and author.
What distinguishes Peter from other artists in the field of Illusion is his commitment to making Magic an Art. His performance is more than mere entertainment, touching the hearts of his audiences in a way few evenings can.