Erin McKeown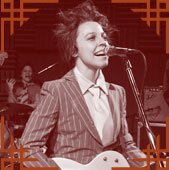 After 5 full-length albums, 2 EP?s, hundreds of shows every year, reams of critical praise, and an incalculable number of fans served, where is Erin McKeown to go?
On a Brazilian vacation? Exploring the Himalayas? To her rarely-visited farmhouse? No such thing! She heads to Lafayette.
Named after the address of New York?s much-loved Joe?s Pub, Lafayette is the acclaimed songwriter?s first official live album and an on-record invitation into her other world, the stage, where she spends more than half of every year knocking ?em dead nightly. Over 13 tracks, Lafayette captures the energy and musicality of McKeown as a bandleader and entertainer extraordinaire.
The albums setlist veers giddily through McKeown?s expanding catalog, taking in a brand new original, material from Sing You Sinners (this year?s acclaimed album of reimagined standards) and McKeown's own inimitable classics, some of which are now approaching a decade old. With the assistance of her crack, 6 piece band, many of these new classics are redesigned for the stage. The bright, youthful glow of "James!" slinks in new, deep-dub clothes. 1997's earnest "Fast As I Can" crackles with a new perspective of wisdom and age. The tender "Lullaby in 3/4" hovers like a hummingbird before crashing to an extended crescendo. And crowd favorites like "Blackbirds," "Slung-Lo," and "We Are More" receive a shot of energy from sinewy horn arrangements.
Fans of McKeown's previous recordings will recognize the ace rhythm section of drummer Allison Miller and bassist Todd Sickafoose. Erik Deutsch, a new addition to McKeown's touring band, brings his wizardry and sense of adventure to the piano, organ, and electronics, along with trumpeter Shane Endsley and tenor saxophonist and arranger Erik Lawrence. And while leading her affectionately-named The Little Big Band, you can practically taste the joy in McKeown?s voice ? after years of traveling the world solo, the prolific songwriter finally has a group to call her own.
Lafayette is one night in the life of a performer at the peak of her powers. With a singer?s natural gift and a guitarist?s serious chops (often overlooked on her studio albums), McKeown leads her band through their paces on songs new and old, fast and slow, boisterous and reflective. And the group returns the favor, playing the bandleader on and off stage like the elegant entertainers of yesteryear.