Amy Hanaiali'i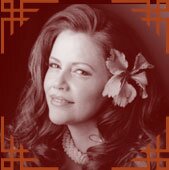 Amy Hanaiali?i has undoubtedly established herself as Hawai?i?s most respected and loved female vocalist, songwriter and performer. She continues to be the top selling female vocalist in Hawai?i and has won the hearts of many with the resurrection of ha`I (falsetto). Her acceptance and success in a genre of music that was waning, confirmed that with the right elements you can introduce a new generation to musical styles that long seemed dormant. When Amy emerged, ha?i was not only once again discovered, but enhanced.
This year, Governor Lingle has honored Amy by naming her: HAWAII?S MUSIC AMBASSADOR. As she travels the world, Amy?s music will bring Hawaiian style to her audiences, and she?ll carry with her the great culture and depth of the Hawaiian people and experience.
Amy?s success is also evidenced by a multitude of awards and acknowledgments including two GRAMMY nominations for Best Hawaiian Music Album. She has also earned a number of prestigious Na Hoku Hanohano Awards (Hawai?i?s equivalent of the GRAMMYS), including Song of Year, Female Vocalist of the Year, Hawaiian Album of the Year and Group of the Year. Her second album, ?Hawaiian Tradition? placed her on the World Billboard Charts, a first for an album written solely in the Hawaiian language. Pacific Business News also acknowledged Amy with their coveted "40 under 40" Business Person of the Year Award, recognizing not just her talent, but her ability to market her fame for the sole enjoyment of her fans. In 2007, her latest album?Generation Hawaii has garnered an unprecedented 8 Na Hoku Hanohano nominations, and won for Album of the year, Female Vocalist of the year, and Hawaiian Album of the year.
Amy Hanaiali?i is known worldwide for her wide vocal range, polished performances, classic charm, and infectious smile. She?s traveled the world and back, received formal training in European classical music, jazz, blues, American standards and pop, and holds a Bachelor of Fine Arts in Musical Theater. Combining these artistic styles and training makes her a fluently diverse entertainer and creates an immediate and profound connection with her audiences.
Amy has opened for such legends as Carlos Santana in Germany, Willie Nelson, Joe Cocker, Wayne Newton, Arlo Guthrie, The Beach Boys, Ernie Watts and many more mainstream artists. She has toured extensively in, Germany, Japan, China and Tahiti, captivating and collecting new fans along the way.
Given her genealogy, the present success of Amy Hanaiali?i should come as no surprise. Amy is the granddaughter of Jennie Napua Woodd, one of the original Royal Hawaiian Girls. Woodd?s many credits include being the choreographer on many of the major Hawaiian motion pictures in the 1930's and 40's while in New York City, Hollywood and Las Vegas, defining America's perception of Hawaiian music and dance at the height of its popularity. While performing at the Lexington Hotel in New York City, Jennie met Amy's grandfather, Lloyd B. Gilliom, who played first trumpet with Swing and Sway with Sammy Kaye and, occasionally, played with Tommy Dorsey.
While Amy received years of formal musical and theatrical training, it was her tutu, Jennie, who inspired her to continue on with Hawaiian music. Recognizing her natural vocal abilities, Tutu arranged for a meeting between the legendary Genoa Keawe and Amy. It was Auntie Genoa that introduced Amy to the ha?i falsetto music style and the rest is history!