Giada Valenti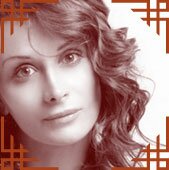 Singer and songwriter Giada Valenti is recognized for her special voice and great stage presence. In Italy people say she sounds like Mina and Ornella Vanoni. In the United States she is often compared with Peggy Lee, Diana Krall, Connie Francis and Norah Jones.
In 2004 Giada moved from Venice, Italy to the United States after a major record label showed serious interest in her music. In 2005 her CD ?Italian Signorina? is released in the U.S. which is continues to get great reviews. This CD features the song ?Caruso? that she performed in 2005 and 2006 on the Red Carpet at the Columbus Day Parade in New York City, broadcast live on NBC. In January of 2007 her version of ?Caruso? was featured in a television special of American figure skater Kristi Yamaguchi.
Producer Sonny Grosso and musical director Phil Ramone have selected Giada for a role in the upcoming Broadway musical ?Be My Love?, based on the life story of the famous tenor Mario Lanza.
Giada was born and raised in Venice, Italy. She began to sing and play piano at the age of 7 and toured professionally with a band at the age of 12. She studied piano and music theory at the Santa Cecilia music school in Venice and received her music degree at the G.Tartini Institute in Trieste. She also took singing lessons in Venice with American jazz singer Down Mitchell.
While she studied psychology at the University of Padova, she participated in the song contest ?San Remo New Talents in the World? and wins with her pop ballad "Solo Con Te" (Only With You). This lead to a record contract with BMG in Europe. The album has a successful run in Europe. One of the tracks is used in a radio and television commercial for Piaggio scooters.
In 2006 and in early 2007 she performed several times her shows?La Dolce Vita Swings? and ?Moonlight & Romance?, in a sold out Dicapo Theatre and Lighthouse Theatre in New York.
In September 2006 Giada performed at the Sergio Franchi Memorial Concert and received a scholarship from the Sergio Franchi Music Foundation.