Judi Marie Canterino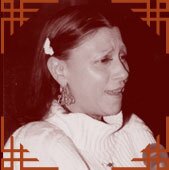 In 1989 Joe Puma, who was playing at a restaurant in Brooklyn Heights, asked Judi Marie Canterino to come in and sing with his guitar. Even though Judi had taken time off from her career to raise a family, she had remained active singing with Teddy Wilson at Café Loup, Roy Eldridge at Jimmy Ryan?s and Joe Venuti at Michael's Pub in the 70's. Now, following some urging by Ross Tompkins and Joe Puma, Judi began to build a songbook in real time ? while performing all over the metropolitan area with her musicians and friends of both more recent acquaintance and from the era of the famed Half Note Jazz Club owned by Judi?s husband Mike and his family.
Thus, in 1989 Judi began to fashion a committed, solid second act to her life in jazz that would bring her to the heights of vocal jazz musicianship.
Ira Gitler, considered one of the foremost authorities of jazz in the world, wrote at the end of 2006, "Somewhere, between the long ago and the now, while I wasn't listening, a confluence of her innate talent, knowledge and experience had fused to produce the real article " a singer who rings true" In the day of wannabe jazz singers, trying too hard to be so hip that it hurts, Judi Marie Canterino is a breath of fresh song. Schooled by Lennie Tristano, and privileged to listen, first hand, to the great instrumentalist who played at the Half Note Club nightly, she sings with a natural style that swings in all the right places without calling undue attention to itself. She?s relaxed and enjoying herself. Very soon the listener is too."
The Half Note was one of the most famous clubs in the history of jazz. It opened in Greenwich Village in 1956 and later moved to West 54th Street, where it remained until it closed in 1976. Mike Canterino and his family employed and kept a lot of big names working during the 50?s and 60?s and gave New Yorkers countless unforgettable evenings of music. Judi Marie Canterino became a Half Note regular, and her slowly developing relationship with Mike led to marriage in 1960.
Manhattan born and bred, Judi began musical training at the ago of five with classical piano (she visited the Julliard School twice a year for recitals as she became advanced), and throughout high school she had classical voice training. In 1958 the saxophonist Souren Baronian presented Judi to renowned pianist and esteemed teacher Lennie Tristano, and from that first, successful audition, Judi devoted herself to the art of jazz singing and swinging.
In the early part of her career, Judi Marie sang with such jazz greats as Zoot Sims, Al Cohn, Wes Montgomery, Buddy Tate, Bud Johnson, Vic Dickenson, Major Holley, Milt Hinton, Doc Cheatham, Roy Eldridge, Clark Terry, Ross Tompkins, Bobby Hackett and others. The Half Note was home to such vocalists as Tony Bennett, Jimmy Rushing, Anita O?Day, Billie Holiday, and Maxine Sullivan, all of whom personally influenced Judi. Other influences were Frank Sinatra, Carmen McRae, and Rosemary Clooney. Ira Gitler writes, ?One of Lennie (Tristano?s) basic methods for instrumentalists was to have them sing along with the solos of musicians such as Louis Armstrong, Roy Eldridge, Lester Young and Charlie Parker. Vocal students did the same but also sang along with singers.? Judi was incredibly lucky to be able to progress right from singing with the recordings to singing on the bandstand at The Half Note where she also heard some of her mentors singing live night after night for more than two decades.
In recent review, Don Nelsen of The Daily News said, ?What Canterino does in an authoritative, rounded mezzo voice is treat us to ballads that we rarely hear elsewhere (such as) ?Foolin? Myself?, which she learned directly from the lips of Billie Holiday?? Joe H. Klee, reviewing Judi Marie Canterino?s first CD in The Mississippi Rag (Dec. 2001), called her ?As exciting a singer/swinger as I?ve encountered since the heyday of Anita O?Day.?
Her two new CD?s are now being readied for release by producer Gregory Allan Cramer. Clark Terry, Houston Person, Russell George and Conal Fowkes are featured on tracks as are Bucky and John Pizzarelli. A main group led by pianist/arranger Keith Ingham includes Jack Stuckey, Randy Reinhart, Jeff Tillman, John Beal, and Joe Cocuzzo.
Judi Marie Canterino and her family have been Riverdale residents for many years.