Eileen Fulton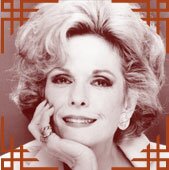 Eileen Fulton is best known for being the first ?Bad Girl? on television, when she created the role of Lisa Miller on the CBS Soap Opera As The World Turns in 1960. Her character was just scandalous enough to attract huge audiences that loved to hate her. Her popularity so high CBS produced one of television?s first ?primetime soaps? for her when they created the spin-off series, Our Private World, for nighttime audiences in 1965.
However, it was on stage in the first Broadway production of Who?s Afraid of Virginia Woolf where Eileen honed her skills after graduating from the prestigious Neighborhood Playhouse. The rigors of both, she says, were perfect training for the rigors of performing ? live ? in a daytime soap opera.
At one point, Fulton worked mornings at As The World Turns, afternoons in matinee presentations of Who's Afraid of Virginia Woolf? on Broadway, and evenings in the Off Broadway musical The Fantasticks. At the same time, Warner Brothers tapped her for the lead in the motion picture, Girl Of The Night. Her additional theater credits include Off Broadway productions of Abe Lincoln in Illinois with Hal Holbrook, Many Loves, Summer of the Seventeenth Doll, and Nite Club Confidential, in which she played Kay. She has also appeared in regional theater productions such as Plaza Suite, It Had To Be You by Renee Taylor and Joseph Bologna, The Owl and the Pussycat, Goodbye, Charlie and Cat on a Hot Tin Roof.
Eileen was inducted into the Soap Opera Hall of Fame on September 14, 1998 . The National Academy of Television Arts and Sciences presented the ?Lifetime Achievement Emmy Award? to Eileen during the 31st Annual Daytime Emmy Awards in 2003.
Eileen is a critically acclaimed nightclub performer and has performed in top venues throughout her career, including the famed Persian Room and the Latin Quarter in their heydey.
Fulton, the daughter of a Methodist minister and a descendant of a long line of clergymen, was born in Asheville, North Carolina on September 13, 1933 as Margaret Elizabeth McLarty. She majored in music and minored in dramatics at Greensboro College in North Carolina and made her professional debut in The Lost Colony, an annual drama presentation in Manteo, N.C. In 1956, she moved to New York City to attend the Neighborhood Playhouse School of the Theater