Linda Eder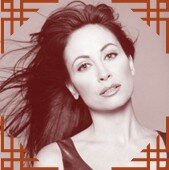 Linda Eder possesses one of the greatest contemporary solo voices of our time. This Minnesota farm girl has captivated audiences across the country with a versatile style and repertoire that covers Standards, Broadway, jazz, pop and country. With nine solo albums and five cast recordings to her credit, Eder continues to expand her range.
Born in Brainerd, Minnesota, her immigrant parents exposed her to many different types of music. The record collection in the Eder household was a mixed bag of pop, country, classical, and music native to her parents Home Counties, Austria and Norway. Her earliest vocal influence was the great Judy Garland. " I knew I wanted to be a singer by the age of eight." At age ten she was introduced to the classical work of soprano Eileen Farrell. " I made up classical arias and sang them to the farm animals." As a young teenager Barbra Streisand became Linda?s next big influence.
After graduating high school, Linda headed for Minneapolis and spent most of her 20?s perfecting her vocals and stage presence working in clubs. The tough 6 shows a week schedule was a valuable training ground and in large part reason for her success today. "Back then no one knew me when I walked on the stage and I hoped they remembered me when I walked off." Her fan base grew and by age 25 she headlined her own show at Harrah's Casino in Atlantic City. Her first big break came in 1987 with an audition for Star Search. She won a spot on the first episode of that season. With her only goal to win at least one show, Linda proved unbeatable for an unprecedented 12- week run. Her success on Star Search expanded her fan base nationally and led to a leading role as Lucy Harris in the 1990 Broadway- bound musical Jekyll & Hyde, a role she played for over 900 performances all across the US before finally arriving on the "Great White Way" in 1996 at the Plymouth theater in Manhattan. She starred on Broadway for 16 months, winning a Drama Desk Award and building her audience. She has recorded five separate cast and pre-cast Broadway albums and appeared on several more Broadway compilation albums.
The mainstay of Eder's career remains the concert stage. Over the years, passionate fans across the country have packed concert venues from The Greek Theater in LA to New York's Radio City Music Hall, The Gershwin Theater, The Palace Theater and four sold out shows at Carnegie Hall. "As a kid my dream was always to play Carnegie Hall." Among her many career milestones, Linda's concerts have be televised on Bravo and PBS. She created and hosted a primetime television special TRAIL MIX for Animal Planet and has been profiled by the Bravo Network. She has appeared on televised concerts of The Songwriter's Hall of Fame, and Julie Andrew's - Leading Ladies of Broadway." She found strong supporters in television celebrity hosts and has appeared several times on Letterman, Regis & Kathy Lee and Rosie. Her powerful rendition of the track Gold was part of the opening ceremonies at the 2002 Winter Olympics.
Since the debut of her self title first album, Linda has recorded and produced nine solo albums, each a blend of standards, pop hits and original songs showcasing her extravagant vocal gifts, and is currently finishing work on her tenth and most ambitious album to date. Going back to her roots Eder has recorded a new album of mostly original songs in the pop/country genre that is closest to her offstage persona. "It's the most "me" of anything I've done." From its title track, The Other Side Of Me, it's clear that this is a "Linda" that she is most at home with. Along with co-producer and friend Billy Stein, she has created a fresh and uplifting radio friendly album that reveals the Minnesota farm girl and also showcases her songwriting abilities.
2008 marks the beginning of her new concert The Other Side of Me. It features a brand new band with lots of guitars, fiddle, plenty of grooves and vocal harmonies, and even has Eder playing her own guitar. "I'm loving it! It feels very honest and the band is amazing! I don't know why I waited so long to do this." The new show is an addition to an already busy schedule. Her Standards/Broadway show An Evening With Linda Eder has become a regular on the subscription series of venues across the country, perfected over the years and the musicians who back her are some of the finest in the business. Known for her lush arrangements and big voice, Eder is often invited to perform with Orchestras and Symphony's, something she really enjoys. "There is nothing that can replace the glorious sound of a symphony orchestra." Two For the Road is a show she put together with her friend the award-winning performer Michael Feinstein, and the two share the stage in a concert that is a throwback to the great singing partners of years past. "there is a little of everything-Steve and Edie- even Sony and Cher!"
With four different shows running throughout the year Eder is a busy working mom. She balances her performing by keeping concerts to a minimum so that she is home as much as possible for her son, Jake. "I try to work on the weekends so I can be there to get him to the bus in the morning and be there waiting when he gets off."
Aside from music and family, Linda has a lifelong love of animals. During the filming of Trail Mix, she became aware of the animal sanctuary PETS ALIVE and with the help of her fans she has continued to raise money for them. A single quarter left on a stage years ago has led to fan donations of over $30,000 dollars, something Eder is very proud to be part of. "A quarter goes a long way in the life of a homeless animal."
Linda has a large and devoted fan base that she is grateful for. Her career has already spanned over twenty years and shows little sign of slowing down. Singing with amazing power and clarity over a variety of musical styles, Linda proves that she is a vocal force to be recognized as one of the great solo voices.