Jackie Mason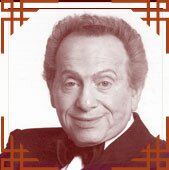 Once in a generation, a performer emerges who is so extraordinary, so brilliant, that he or she become the standard to whom all others are compared. Jackie Mason is such a performer, and is widely regarded as one of the greatest stand-up comics of all time. Now more popular than ever, Mason combines pungent political satire, insightful observations on the foibles of modern life and impeccable timing to create material that leaves audiences laughing until they cry and critics raving show after show.
Born in Sheboygan, Wisconsin, Jackie Mason was raised on the Lower East Side of Manhattan surrounded by rabbis. His father, grandfather, great-grandfather, and great, great-grandfather were all rabbis, as are his three brothers. No surprise that at age 25, Jackie Mason was ordained a rabbi. Three years later, he quit his job in a synagogue to become a comedian because, as he says, ?Somebody in the family had to make a living.?
From humble comic beginnings in New York, the Borscht Belt, and comedy clubs around the country, Jackie Mason rose to be one the hottest comics in America in the early 1960?s. He reached the apex of American entertainment culture when he became a regular performer on the nation?s preeminent television variety program, ?The Ed Sullivan Show,? only to fall into Sullivan?s disfavor over the interpretation of a now legendary hand gesture during a live performance in 1962, an incident which cast a shadow over Mason?s career for more than a decade.
Mr. Mason first emerged from that shadow in Los Angeles, where his one-man show, ?The World According to Me? originated in 1984 to wide acclaim. Yet the great triumph was his return to New York and his extraordinary success as a one-man show on the Great White Way.
?The World According to Me? began its unprecedented two and a half year run on Broadway began in December 1986 winning triumphant reviews and reestablishing Mason as one of the nation?s premier comics. The show earned Jackie Mason a Tony Award, an Outer Critics Circle Award, an Ace Award, an Emmy Award, and a Grammy nomination, and it toured successfully in America and Europe for two years.
Mason returned to Broadway in 1990 with ?Jackie Mason: Brand New?; in 1994 with ?Jackie Mason: Politically Incorrect?; in 1996 with ?Love Thy Neighbor?; in 1999 with ?Much Ado about Everything?; and in 2002 with ?Prune Danish.? With each production a critical and commercial success, Jackie Mason made history in the theater industry and collected an impressive array of nominations and awards from the Outer Critics Circle, the Grammy?s, the Ace Awards and others. An HBO special, ?Jackie Mason on Broadway?, earned him both an Emmy and an Ace Award.
Over the years, Jackie Mason has appeared in a variety of films and television shows, most notably ?Caddyshack II? which won him a new, younger, hipper urban following and the TV sitcom, ?Chicken Soup?, which taught him that he?s only happy when he?s performing his own material.
Politics has long been a passion for Jackie Mason and he is well known for his tough and outspoken position on a variety of issues. Mason hosted a nationally syndicated radio talk show and together with his friend and collaborator, the divorce attorney Raoul Lionel Felder, he hosted both the weekly PBS talk television series ?Crossing The Line? and BBC radio show ?The Mason-Felder Report? three times each week.
Mason and Felder also write together. In 1997, Avon Books released The Jackie Mason, Raoul Felder Survival Guide to New York. This followed Dove Books' Jackie Mason and Raoul Felder's Guide to New York and Los Angeles Restaurants in 1996. The authors have also been regular contributors to both the American Spectator and The Washington Times.
Well known and beloved around the world, Jackie Mason has been honored by many including South African President Nelson Mandela, the United Kingdom?s Oxford University, and scores of other organizations. In 1991, during the first Persian Gulf crisis, Jackie closed his show on Broadway and traveled to Israel in a show of solidarity that was later honored by now former Israeli Prime Minister Benjamin Netanyahu.
Jackie Mason calls New York home, but he lives on the road entertaining his many loyal long-time fans and the legions of new fans he earns each year.