Mary Cleere Haran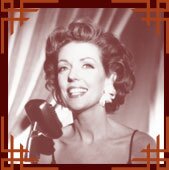 MARY CLEERE HARAN, one of the most renowned singers of "The Great American Songbook," has garnered rave reviews from audiences and critics alike for her witty, sophisticated performances. The San Francisco native, who has been compared to Ella Fitzgerald, Peggy Lee, Doris Day and Rosemary Clooney, evokes the charm, style and wit of 1930s movie stars like Myrna Loy, Irene Dunne, Jean Arthur and Carole Lombard. She has performed at some of the most prominent venues in the country, including Lincoln Center, Rainbow & Stars, The Russian Tea Room, The Cinegrill in Los Angeles, The Plush Room in San Francisco and the Bellevue Hotel in Philadelphia.
It was Haran's love affair with classic movies of the 1930s and 1940s - most notably the black and white Warner Bros. films bursting with brassy, sassy Gold Diggers and Jazz Age Gershwin music - that sparked her love affair with American popular song. She cites Judy Garland, Ella Fitzgerald and Peggy Lee as primary sources of inspiration, but Hollywood's Golden Age has made an indelible impression on Ms. Haran's singing. She also boasts an impressive list of theater credits, making her Broadway debut in The 1940s Radio Hour and appearing Off Broadway in Manhattan Music, Swingtime Canteen and Heebie Jeebies. On TV, she had a recurring role on Sidney Lumet's drama "100 Centre Street" on A&E.
In addition to her illustrious performing career, Ms. Haran is a respected writer and researcher who has brought her talents to numerous PBS specials, including "Remembering Bing," "Irving Berlin's America," "When We Were Young: The Lives of Child Movie Stars," "Satchmo," a documentary about Louis Armstrong and "Doris Day: A Sentimental Journey." She was one of a select group asked to write on Frank Sinatra's death in The New York Times. Her CDs have been praised by Entertainment Weekly, People Magazine and The New York Times. Her most recent release is Crazy Rhythm: Manhattan in the '20s.