Sylvie Vartan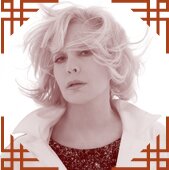 Sylvie Vartan has been one of France's most famous female entertainers for the past five decades. Her records have sold in the tens of millions on three continents in six languages, placing her among the recording industry's biggest selling international artists. Sylvie's career started as a teenager when she became the first French female singer to introduce American-style rock and pop music to France. One year later she was headlining Paris' famed Olympia music hall with the Beatles.
After years of record breaking concert tours, television and motion pictures, Sylvie has become as well-known in Tokyo or Rome as she is in Paris, and her popularity remains undiminished after so many years in the limelight.
A 2010 personality portrait, "Salute to Sylvie" on RTL Radio France, honored Sylvie for her career achievements of: 40 Million Records sold; 2,500 On-Stage Performances; 1,200 Songs Recorded in her repertoire; being featured on more than 2,000 Magazine Covers (making her the Female Artist with the most magazine covers in the History of France); and having been voted the Most Admired Woman in the Nation by L'Express Magazine.
Born in Bulgaria and raised in France, Sylvie has been an outspoken champion for justice and is the Founder and President of the "Association Sylvie Vartan Pour la Bulgarie" in France that supplies medical equipment for the children's hospitals and orphanages in Bulgaria. She also founded the Sylvie Vartan Association for Underprivileged Children in the United States, which provides educational scholarships for underprivileged children. Since 2005, Sylvie has been an AMBASSADOR of the United Nations World Health Organization and has taken a leading role in safeguarding the welfare of children in Eastern Europe.
In recognition of the esteem in which she is held by France and Bulgaria, Sylvie is now one of the most decorated women in both countries having received the highest honors the government awards to civilians in each country.
Sylvie Vartan is married with two children and lives in Los Angeles, California and Paris, France.