Jessica Molaskey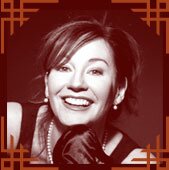 JESSICA MOLASKEY's third solo CD Make Believe was given an "A" ranking and called "wondrous" by the Philadelphia Daily News on its first day out. Her debut CD, Pentimento, was proclaimed one of the top five entertainment records by Amazon.com for 2002. Jonathan Schwartz of National Public Radio called it "The best cd of the year." Show Business Weekly called her second solo CD, A Good Day, "the best female vocal CD of 2003". Her fourth solo CD will be released in 2006.
Reviewers have compared her singing voice to Peggy Lee, Chris Connor, k.d. lang and even Chet Baker. She has sung in concert from Lincoln Center to Carnegie Hall, and has had the great honor of performing at the Montreal Jazz festival. Jessica has performed annually at Feinstein's at the Regency with husband John Pizzarelli, and last year made her solo debut at the Oak Room at the Algonquin hotel in New York. She will return for three weeks in June 2006.
She is a veteran of a dozen Broadway shows, most recently the new musical, A Man of No Importance at Lincoln Center written by Terrance McNally, Lynn Ahrens and Stephen Flaherty. Other Broadway credits include Parade (directed by Hal Prince), Dream, Tommy, Crazy For You, Les Miserables, City of Angels, Chess, Cats and Oklahoma!
Jessica has premiered music written by Ricky Ian Gordon, Adam Guettel, Jason Robert Brown, Michael John LaChiusa, and Stephen Sondheim. She has written songs for almost a dozen recordings including the critically acclaimed "Greed", part of a commission for Audra McDonald's Seven Deadly Sins at Carnegie Hall.
Other recordings include Fine and Dandy, Myths And Hymns, Parade, Songs For a New World, Weird Romance, Chess, Oklahoma!, Windflowers: The Music of Jerome Moross, Fred Hersch's CD Two Hands, Ten Voices and the upcoming cast album of Dream True by Tina Landau and Ricky Ian Gordon.
She co-hosts the nationally syndicated radio program Radio Deluxe with John Pizzarelli on which they have interviewed such stars as Tony Danza, Liza Minnelli and Regis Philbin.
For more information, visit www.jessicamolaskey.com.