Alexandra Silber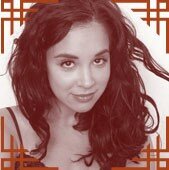 Alexandra Silber was born in Los Angeles and grew up in a suburb of Detroit Michigan.
She began her training at Interlochen Center for the Arts at both the summer program and continued her full time high school performing arts education at the Interlochen Arts Academy, where she graduated with the coveted Young Artist Award.
Alexandra then went on to train at the Royal Scottish Academy of Music and Drama in Glasgow, where she performed in productions including The Cherry Orchard, Metamorphosis, Twelfth Night, The Balkans Are Not Dead, the title role in Electra, as well as Helen of Troy in Howard Barker?s acclaimed production of The Bite Of The Night.
Days before graduation, Alexandra was discovered by the casting director of Andrew Lloyd Webber?s The Woman In White directed by Trevor Nunn, and within weeks she assumed the role of Laura Fairlie on London?s West End. Since that debut, she has gone on to portray Hodel in The Sheffield Crucible?s production of Fiddler On The Roof which also reached the West End; as well as her most recent appearance in the West End as Julie Jordan in Rodgers and Hammerstein?s Carousel. Alexandra portrayal of Julie, earned her the prestigious TMA Award for Best Performance in a Musical.
It is fitting that her debut professional appearance in the US was again Julie Jordan, in LA?s Reprise production of Carousel, at the invitation of Artistic Director Jason Alexander. Alexandra followed that with another triumph, joining Tony and Emmy Award winner Tyne Daly in Master Class, part of the Kennedy Center?s Terrence McNally Nights at the Opera Festival. She has also appeared in the Stephen King film 1408 alongside John Cusack, and earlier this year made her first appearance on US television as a guest star on Law & Order.
Alexandra is an avid blogger and professional writer, and when she is not working, enjoys traveling, photography, cinema, and peanut butter?not necessarily in that order. She also has a fondness for red shoes, owls, watermelon, and all things Muppet and badcrimedrama.