Morgan Crowley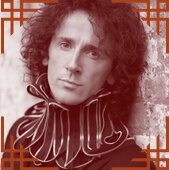 The internationally acclaimed artist Morgan Crowley returns to Broadway in a specially devised cabaret program drawn from his diverse career to date ?highlighted by performances in theatre, television and film. Notable credits include the hit Showtime series ?The Tudors?, BBC?s longest running hit soap opera ?Eastenders?, the animated adventure ?A Troll In Central Park?, the Warner Bros epic ?The Quest For Camelot?, the world premiere of ?Riverdance ? The Show?, ?Cirque du Soleil?, ?Phantom Of The Opera?, ?Sweeney Todd?, ?The Magic Flute?, ?Les Miserables?, ?A Little Night Music?, ?The Resistible Rise of Arturo Ui?, ?West Side Story? and the Tony/Olivier winning stage version of the Oscar-winning ?Chicago?. The programme for the cabaret promises to please both lovers of classic tunes and seekers of contemporary material delivered in a unique style by a performer who has won both audience and critical favor in five continents.
The diversity of Mr. Crowley?s career is best exemplified by his 2009 schedule : upon completion of two concurrent contracts with Cirque du Soleil and in the title role of ?Phantom of the Opera? in the USA, he returned to his recurring role in BBC TV?s drama series ?Eastenders? and a debut role in the hit Showtime series ?The Tudors?, presented his cabaret in five countries, featured as an aerial artist in an historic event for Berlin?s 20th Anniversary and premiered several classical works in London, Zurich and New York.
Highlights of his concert and cabaret work to date include The Carnegie Hall Gala, the world premiere of an experimental Italian opera in London?s Royal Festival Hall, performance on a Grammy-nominated live CD recording, The Academy Awards in Los Angeles, Radio City Music Hall New York, BBC?s legendary ?Friday Night Is Music Night? and The Proms. Future plans include a TV series in Australia, a guest role in a new HBO TV series, arena events in the USA and Switzerland, several world premieres of classical music and drama readings, workshops for a new Broadway musical and the launch of a new album of jazz standards.
Morgan Crowley?s training has included drama at the renowned London institution RADA (Royal Academy of Dramatic Arts) and the celebrated Lee Strasberg Institute in Hollywood ; music at the internationally celebrated Royal Academy of Music and the College of Music (aswell as private classes in Dublin, London, Paris and Basel) ; dance at the National Dance Centre in Dublin and the London Dance Studios ; masterclasses have included Dame Joan Sutherland, Jonathan Miller and Dame Judi Dench. He is also an Honours Graduate (Magnum cum Laude) of Trinity College Dublin with an M.B.A. Masters Degree and a B.Sc. (Mgt.) degree.