Orfeh .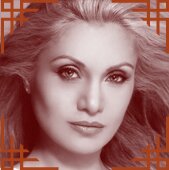 First things first: the name. Yes, it?s real. And it came from Orfeu Negro, the 1959 film shot by French director Marcel Camus in Brazil (better known by its American name: Black Orpheus). Resetting the Greek myth of Orpheus and Eurydice in modern-day Rio de Janeiro during the Carnival celebration, the bossa nova-flavored movie was an international sensation, winning the Palme d?Or at the Cannes Film Festival as well as the Oscar and a Golden Globe for Best Foreign Film. And it gave one-of-a-kind Orfeh her one-of-a-kind name.
"My mother had a psychic premonition that I?d be a singer like Orpheus," Orfeh once explained in an interview. "She didn?t know what gender I?d be, but she said, ?Boy or girl, the name is Orfeh.? I love it when people think I came up with it?like I chose to call myself this unpronounceable word. That?s a name only a mother could come up with!"
Growing up in the city, Orfeh attended New York City public schools. Immediately after graduation from a performing arts high school, she landed a record deal with EMI Records, headlining the early-1990s dance group Or-N-More. Life suddenly became a whirlwind of coast-to-coast concerts, music video shoots and press appearances for Orfeh as the group's self-titled album and single "Everyotherday" were released. Although the Top 40 album swiftly went gold and the single climbed to 1 on the club music charts, Orfeh soon watched her life play out like a bad episode of Behind the Music.
"My recording career went wrong," she has said. "Really, really wrong. We had the business manager that stole all the money, the hit record that was about to become a mega-hit record and suddenly the rug was pulled out from under us. After being on the road for years and devoting my life to recording, I found myself at home saying, 'What do I do now?'" Even if Or-N-More may have been no more, Orfeh's talents as a songwriter earned her a much coveted publishing deal with Warner/Chappell and she has written and produced songs for other artists. She also remains a member of NARAS, which gives her nominating and voting privileges for the Grammy Awards.
Thanks to the success of Rent, hip and funky belters like Orfeh were in vogue in musical theater and Broadway soon came calling. Although Orfeh made her Broadway debut in the fall of 1998 as understudy to all the female leads in the original company of Footloose, she was soon sought after for more prominent stage roles. As part of the ten-member company of The Gershwins' Fascinating Rhythm, Orfeh belted out modern interpretations of Gershwin classics alongside talents like Adriane Lenox, Sara Ramirez and Patrick Wilson. Although the revue closed after just 17 performances, Orfeh already had her next gig lined up.
A hit from London, the stage version of the John Travolta disco film classic Saturday Night Fever arrived on Broadway in a flurry of press and ticket sales. In fact, by the time it opened on October 21, 1999 at the Minskoff Theatre, it hardly mattered that critics mostly dismissed it. What they definitely didn't dismiss was the work of Orfeh as Tony Manero's jilted sidekick Annette, especially singling out her powerhouse rendition of the disco smash "If I Can't Have You" in the first act. She also caught the eye of Rosie O'Donnell, who immediately booked Orfeh on her popular talk show to sing the song. Saturday Night Fever went on to run for 15 months on Broadway, with Orfeh missing no performances.
Saturday Night Fever brought Orfeh more than just a pile of good reviews. When a tall, good-looking Broadway newcomer took over the role of Joey in the show, she was smitten. His name was Andy Karl and by the end of the Broadway run of the show, he was hers. A few weeks later, in early 2001, they eloped in Miami. The married Karls call Manhattan home.
Andy has since made a name for himself as an original cast member of the off-Broadway smash Altar Boyz, and Orfeh has been lucky to perform alongside her husband on several occasions since Saturday Night Fever. In Me and Mrs. Jones at the Prince Theater in Philly, they got to sing soul classics alongside Lou Rawls. Later, they returned to the Prince to co-star in the musical adaptation of Bright Lights, Big City. With Legally Blonde, they finally got to play off each other in a big way. Orfeh played Paulette, the unlucky-in-love Bostonian hairdresser who becomes best friends to Elle Woods, and Karl as Kyle, the UPS man of her dreams. Needless to say, Orfeh was thrilled to get to bend-and-snap for her husband eight times a week on Broadway. Orfeh's performance in Legally Blonde earned her a coveted Tony Award nomination for Best Featured Actress in A Musical.
She's also been seen on the Broadway stage in highly-touted Actors' Fund of America benefit concerts of Dreamgirls and Hair and in two off-Broadway musicals: as rock icon Janis Joplin in Love, Janis and as trailer park stripper Pippi in The Great American Trailer Park Musical.
On TV, Orfeh's played a tough chick from Staten Island on Sex and the City, a sassy secretary on Chappelle's Show and a grieving working class widow on Law & Order: Criminal Intent. Most recently, she was seen on the big screen in Julie Taymor's movie musical Across the Universe and can also be heard on the soundtrack backing up music legend, Joe Cocker on the Beatles classic, "Come Together".
Orfeh balances her theater work with an adventageous side career as one of the top voiceover artists around. She can also be heard on video games Max Payne 2, Grand Theft Auto/San Andreas and The Warriors and is one of the primary female voices heard on MTV, VH1 and The Independent Film Channel.
In addition to her acting work, Orfeh continues to work on her music and released her solo debut, "What Do You Want From Me" on Sept 30th 2008 on Sh-K-Boom/Ghostlight records. The CD is available everywhere in stores and online now.