John Dankworth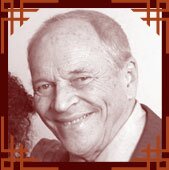 In a career that spans more than forty years as a composer, performer and conductor, JOHN DANKWORTH combines confidence and virtuosity with eclecticism and unpredictability to continually cross conventional musical boundaries. It is unlikely that there is a British musician better known for a wider range of musical activities than Dankworth.
In addition to his recording and composing activities, John criss-crosses the continents performing with his jazz ensemble, big band and as pops music conductor of many of the world's great symphonies. He also devotes a large part of his season to touring engagements with his wife, the distinguished "First Lady of Jazz," Miss Cleo Laine. This past year, their collaborations in the U.S. included the Carnegie Hall JVC Jazz Festival and some thirty engagements across the country in performing arts centers and as guest artists with symphony orchestras. As part of this season's itinerary, they will embark on a ten-city tour with the Ellington Orchestra, in support of their new disk for RCA Victor entitled "Solitude" which features all Duke Ellington music. Whether with his baton, saxophone or clarinet he has been recognized as one of the world's most outstanding musicians. For the past few years he has been honored at the prestigious British Jazz Awards, receiving the 1991 award for band leader and last season for his musical arrangements.
Born in London, he showed early proficiency on the clarinet and by the age of 17 had entered the Royal Academy of Music. Taking up the saxophone to play modern jazz he was named Musician of the Year by The Melody Maker Jazz Poll every year from 1949 until 1955 -- the only jazz artist ever to achieve this level of recognition. In 1950 he formed the Dankworth Seven and, in 1953, the Dankworth Big Band. During this period, John scored in both pop and jazz circles with "Experiments with Mice" (1956) and "African Waltz" (1960) breaking the British Top Ten.
In 1958, director Karl Reisz engaged Dankworth to compose his first film score, commencing a flourishing career in that area which included scores for The Criminal, Saturday Night and Sunday Morning, The Servant, Darling, Accident, Morgan, Return From The Ashes and Modesty Blaise. During this time, Dankworth also served as Musical Director for the British visits of Nat "King" Cole, Ella Fitzgerald, Sophie Tucker and Oscar Peterson.
Dankworth's writing career has also extended to the musical theatre; In 1968, he wrote Boots with Strawberry Jam with Benny Green, a musical based on the life of George Bernard Shaw. In 1979, he wrote the musical Colette for his wife, Cleo Laine. He has received commissions from the London Philharmonic Society ("Improvisations for Jazz Band and Symphony Orchestra"), The National Theatre ("Edward II"), The Royal Shakespeare Company ("The Man of Mode") and the Houston Ballet ("Lady in Waiting"). Among many other of his choral and orchestral compositions are "The Diamond and the Goose" (with Benny Green), "one Horse Shay", "Thy Kingdom Gone", "Grace Abounding" (a set of variations on "Amazing Grace"), "Tom Sawyer's Saturday", and "Further Experiments with Mice" (based on the nursery rhyme 'Three Blind Mice").
Dankworth founded the London Symphony Orchestra's pops program in 1985, and has served as the orchestra's Pops Musical Director. As a conductor, Dankworth has directed Pops programs for major orchestras throughout the world, including the Los Angeles Philharmonic, the St. Louis Symphony, Denver Symphony, Vancouver Symphony, Minnesota Orchestra, Toronto Symphony, Royal Philharmonic, Atlanta Symphony, Detroit Symphony, and has served as Principal Guest Pops Conductor for the San Francisco Symphony and Pops Conductor for the Rochester Philharmonic.
In 1970, John Dankworth and Cleo Laine founded the Wavendon Allmusic Plan at the Allmusic Center located at their home in rural England. It has become renowned throughout the world via its international broadcast on the BBC. It came into being as a result of their desire to promote a broad view of the various forms of music. Cleo and John resolved to launch a music scheme which would through performance and musical education enable people to broaden their views about music. It encompasses a studio and concert setting for a performance and seminar series devoted to the teaching of "Allmusic". Allmusic is Dankworth's interpretation of what might be called world music today. It has since grown into a series of weeklong courses - Jazz at Easter, Allmusic in the summer and Classical at Christmas, as well as weekend seminars, a music camp for children, over one hundred fifty concerts a year, and even a traveling version of the school known as "The Wavendon Roadshow". "There's a reason to eradicate snobbism in music", Dankworth explains. "People were skeptical at first, but we've built tremendous support over the years. We've made it work for the participants on both a performance and educational level, and now, Wavendon runs itself".
Among his current symphony Pops recordings, John is especially proud of his 1988 Grammy nomination (Best Instrumental Arrangement) for "Caravan" on Misty (with the London Symphony Orchestra). John has also recorded "Jazzin' the Pops" with AI Hirt, Dizzy Gillespie's "The Symphony Sessions", and "Echoes of Harlem, a tribute to Duke Ellington" with the Rochester Philharmonic for ProArte Records, and "Symphonic Fusions" (with the London Symphony Orchestra) on MCA Classics. "The Vintage Years", a retrospective compilation of recordings by the John Dankworth Big Band between 1953 and 1959, was released in Britain to critical acclaim, as was his most recent album "Dankworth Big Band: Live at Ronnie Scott's".
A fellow of the Royal Academy of Music, John was awarded a Doctor of Music degree by Berklee College of Music in 1982. He received a O.B.E. from H.R.H. Queen Elizabeth, and with his wife was named Great Britain's Variety Club's Show Business Personality of the Year. He also received an Academy Award nomination for his score for Return from the Ashes.