Matt Doyle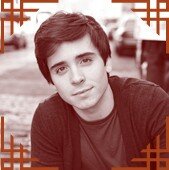 Matt Doyle, of Broadway?s ?Spring Awakening? and ?Bye Bye Birdie,? as well TV hit ?Gossip Girl,? is honored to be making his Feinstein's debut.
At 19, Matt made his Broadway debut in 2007 in the Tony award winning musical, ?Spring Awakening.? He began his journey with the original cast of the hit musical, covering the lead role of Melchior. Matt later replaced the role of the predatory Hanschen in April of 2008. The New York Times said he played the character's famous seduction scene with "consummate wit."
After the show's closure in New York, Matt assumed the role of the rebellious and driven Melchior in Toronto. The Toronto Star raved about his performance, saying "Matt Doyle as the straight-arrow Melchior gave one of the most dynamic performances of the night, with passion quivering from every part of his body, as well as a face and voice that lay every emotion right on the line."
Matt finished his journey with ?Spring Awakening? in Toronto. During his two year run with the show, he also became well known for his work in the recording studio and on television. He played the role of Peter on the 2007 studio recording of ?Bare: A Pop Opera.? Matt has also become well known for his recurring appearance in the role of Jonathan on the CW's hit show, ?Gossip Girl.?
In the fall of 2009, Matt joined the cast of the Broadway revival of ?Bye Bye Birdie.? He played the role of the hilariously neurotic Hugo Peabody. John Simon of Bloomberg News claimed Matt "couldn?t be more comically zealous" in the role.
Now only 23, Matt continues to be one of New York?s most exciting and promising young talents. Following the success of several sold-out engagements at NYC?s famous Joe?s Pub, Matt is excited to bring an eclectic mix of jazz, musical theatre, and soul to Feinstein?s.