Mitzi Gaynor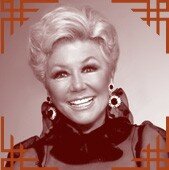 MITZI GAYNOR first took the concert and nightclub world by storm in 1961 at Las Vegas? fabulous Flamingo Hotel. Her debut was met with overwhelming acclaim - Life Magazine noted ?Gaynor started at the top and climbed even higher?, The Los Angeles Times called her ?The nation?s number one female song and dance star? - and for the next four decades she dominated stages across the United States and Canada, as her Emmy® winning television specials delivered her performing magic to the millions of viewers who looked forward to those annual must-see events.
The legendary musical performer has been in show business for nearly sixty five years beginning her career at the age of thirteen in the Los Angeles Civic Light Opera as a featured performer in productions including Naughty Marietta, Roberta, Jollyana and The Great Waltz in Los Angeles, San Francisco, Philadelphia and on Broadway in the New Century Theatre production of Gypsy Lady. She transitioned from stage to screen at age nineteen with her first film role opposite Betty Grable in My Blue Heaven. She starred in seventeen motion pictures including There?s No Business Like Show Business, Les Girls, Anything Goes and earned a Golden Globe® nomination for her portrayal of Ensign Nellie Forbush in Rodgers & Hammerstein?s South Pacific. She dominated the small screen for nearly a decade with her annual network television spectaculars (garnering seventeen Primetime Emmy® Award nominations) then returned to live performing with countless concert productions nationwide for over forty years.
She was awarded the 2010 Bob Harrington Lifetime Achievement Award at the 25th annual Bistro Awards Gala and most recently won a 2010 NATAS Emmy® Award for her public television musical documentary Mitzi Gaynor: Razzle Dazzle! The Special Years. In addition to touring with her new one woman show she is also currently working on her memoirs.