Tracie Thoms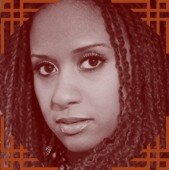 Tracie Thoms has had wide-ranging success in film, television and theatre throughout her young career. She?s considered to be one of the rising stars of a new generation of talented and versatile American performers.
Tracie realized a long-held dream when she starred in 2008 as 'Joanne' in the final weeks of the historic 12 year run of the Broadway musical, "Rent". Previously, she played the same critical role in Sony's film of ?Rent? opposite Rosario Dawson, Taye Diggs and Jesse Martin.
In 2007, she starred opposite Kurt Russell and Dawson in Quentin Tarantino's "Grindhouse: Death Proof.? The New York Times and other major media outlets gave Tracie rave reviews. She was also featured opposite Meryl Streep and Anne Hathaway in "The Devil Wears Prada" for director David Frankel.
Tracie starred on Broadway opposite Alfre Woodard in Regina Taylor's "Drowning Crow." She was featured in the critically acclaimed "The Exonerated" at The Culture Project Off-Broadway, and she's been seen in "The 24 Hour Plays," "The 24 Hour Musicals? and the new plays, "10 Things To Do Before I Die" for New York's Second Stage Theatre and ?And Her Hair Went With Her" at Los Angeles' Fountain Theatre.
Tracie can be seen every Sunday as a series regular on the hit CBS series, "Cold Case." She was a regular on the Fox series, ?Wonderfalls? and UPN's "As If"; had a memorable guest role as CCH Pounder?s tortured daughter on FX's "The Shield"; and she appeared in the indie films ?Descent?, ?Sex and Breakfast," Chris Rock's "Good Hair" and "Peter and Vandy."
Tracie started serious acting studies in her hometown of Baltimore at the age of 9. She attended high school at the prestigious Baltimore School for the Arts. Later, she received a bachelor of fine arts degree from Howard University and a graduate degree in acting from New York City's renowned Juilliard School.