A.J. Swearingen & Jonathan Beddle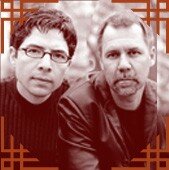 AJ Swearingen and Jonathan Beedle have been performing this remarkable tribute to the music of ?Simon & Garfunkel? for more than a decade and their sold out shows prove the effect on their audiences is undeniable. A chance meeting in 1991, in a local club in Bethlehem, PA, brought these two talented artists together. A brief introduction and moments later they were blending their voices as if they had been performing together for a lifetime.
AJ?s warm baritone and Jonathan?s soaring tenor combine flawlessly to capture the essence and magic of ?Simon & Garfunkel?s? sound of the early years in Greenwich Village. With a quiet stage and an acoustic guitar, A.J. and Jonathan recreate the memories of the classic hits and obscure songs of ?Simon & Garfunkel.?
Discover why audiences are cheering for this duo as they capture ?the magic of ?Simon and Garfunkel.?