Carole Bayer Sager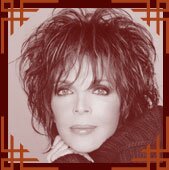 CAROLE BAYER SAGER's songbook spans almost 40 years and some of the period's most popular and successful songs. From the Grammy-winning "That's What Friends Are For," the Oscar-winning "Arthur's Theme," and the Oscar-nominated "The Prayer," to "Don't Cry Out Loud" and "On My Own," Carole's songs have become pop standards. Honors for her work include an Academy Award (seven nominations), a Grammy Award (nine nominations), two Golden Globe Awards (seven nominations), a Tony Award (two nominations), and an induction into the Songwriter's Hall Of Fame. One of the most prolific and poignant writers in pop history, Carole's songs have been recorded by such artists as Barbra Streisand, Michael Jackson, Frank Sinatra, Whitney Houston, Dolly Parton, Aretha Franklin, Bette Midler, Andrea Bocelli, Phil Collins, Celine Dion, Leo Sayer, Reba McEntyre and Phil Collins, among others.
Carole's ability to accommodate her talents to meet ever-changing musical styles has given her the unique opportunity to collaborate with such diverse musical talents over the years as Bob Dylan (one of Dylan's few collaborations), Melissa Manchester, Carly Simon, Kenny "Babyface" Edmonds, and Carole King, among others. She most recently collaborated with pop superstar Britney Spears and she works regularly with 21-year-old songwriter/choreographer Wade Robson.
2003 marks a milestone year for Carole: Her music is being heard live eight shows-a-week on Broadway as her long-time collaboration with Peter Allen is immortalized as part of the musical biography of Allen, "The Boy From Oz," starring Hugh Jackman as Allen. It contains ten of Allen/Sager tunes. Carole is the executive producer of a new CD, "It's Still Okay To Dream," to be released November 18 on Atlantic Records with all proceeds going to the "Save the Children" Foundation. The CD will include both new and previously-released material from Eric Clapton, Barbra Streisand, Carly Simon, Sting, and James Taylor, among others. The title track was written by Carole and Kenneth "Babyface" Edmonds and recorded by him as well. Carole returns to New York City to headline an engagement at Feinstein's at the Regency, November 18- 22, her first live appearance in New York in 25 years, the last one being at The Bottom Line in 1978.
Born in New York City, Carole began her songwriting career while still a student at the High School of Music and Art. She was talent-spotted by Don Kirshner and signed to his Screen Gems publishing company, where, in 1966 and still in her teens, she wrote her first #1 hit, "A Groovy Kind of Love" for the English group The Mindbenders. (Twenty-three years later, Phil Collins re-recorded the song, taking it to the #1 spot and becoming the most performed radio hit of 1990. Neil Diamond included it on his 1993 album, "Up on the Roof.")
In the early '70's, Carole began a long-lasting collaboration with Melissa Manchester that resulted in many classic Sager-Manchester songs. Together, they created such popular songs as "Midnight Blue" and "Come In From the Rain."
The consummate collaborator, Carole began working with Peter Allen at about the same time. Carole believes Peter's songwriting talents contributed to some of her finest songs. Songs such as the #1 "Don't Cry Out Loud," "I'd Rather Leave When I'm in Love," "Everything Old is New Again," and "Quiet Please There's a Lady on Stage" were Sager-Allen collaborations.
Carole's self-titled 1977 debut solo album earned the artist a UK #1 hit with "You're Moving Out Today," a song co-written with Bette Midler and Bruce Roberts. Carole has subsequently released two additional albums, the last of which includes her biggest solo hit, in America, the 1981 single "Stronger than Before." Carole received her first Academy Award nomination in 1979 with the theme from "The Spy Who Loved Me," "Nobody Does it Better," which was written with Marvin Hamlisch and recorded by Carly Simon. The song hit #1 and became one of the many Sager-Hamlisch hits, including the following year's Academy Award-nominated, "Thru the Eyes of Love."
In 1979, Carole and Marvin co-wrote with Neil Simon the Broadway smash, "They're Playing Our Song," which was a semi-autobiographical romantic musical comedy about a wisecracking composer and an offbeat pop lyricist. The show ran for over two years and was nominated for four Tony Awards, including Best Musical.
Carole's third Academy Award nomination came in 1981 for "Arthur's Theme (Best That You Can Do)," which was co-written with Burt Bacharach, Peter Allen and Christopher Cross. Recorded by Cross for the 1981 Dudley Moore hit film, Arthur, the song spent three weeks at #1 on the Billboard 'Hot 100' and earned the songwriters the Academy Award in 1982 for "Best Song From A Film."
Carole's partnership with Burt Bacharach was fruitful both professionally and personally. As husband and wife, they were one of songwriting's most successful teams, highlighted by the #1 song of 1986 "That's What Friends Are For." Recorded by Stevie Wonder, Elton John, Dionne Warwick and Gladys Knight, it won the Grammy Award for "Song of the Year." Carole and Burt donated their publishing monies to the American Foundation for AIDS Research. The song has continued to heighten awareness of the disease, as well as raise over $2 million for AIDS research and care.
That same year "On My Own," another Sager-Bacharach collaboration, recorded by Patti LaBelle and Michael McDonald, was not only a Grammy nominee, but also the #1 song on three different Billboard chart lists simultaneously. There had never been a time when two songwriter-producers topped two lists with two different #1 songs in the same year. Carole and Burt shattered that mark. Another Carole/Burt collaboration was Neil Diamond's #1 song, "Heartlight."
With collaborator James Ingram, Carole was nominated for back-to-back Academy Awards and Golden Globes in 1994 and 1995 with "On The Day I Fall in Love" and "Look What Love Has Done to Me."
In 1998, Carole, working with David Foster, earned another Academy Award nomination for "The Prayer," sung by Celine Dion and Andrea Bocelli. Featured on Celine's CD "These Are Special Times," the song won Carole and David a Golden Globe Award for "Best Original Song from a Motion Picture." That same year, Carole was nominated for an Emmy Award for the Opening Number to the AFI's 100 Greatest Stars, co-written by Marvin Hamlisch and performed by Liza Minnelli.
Carole has always credited Carole King with having a major impact on her career. She was fortunate to work with her on a number of projects: King performed "Anyone At All," co-written with King and David Foster for the Nora Ephron film You've Got Mail. The three also collaborated on "My One True Friend" performed by Bette Midler for One True Thing with Meryl Streep. More recently, in 2001, Carole executive produced and co-wrote a number of songs with King for King's solo album, "Love Makes the World."
Most recently, Carole and Babyface wrote "Try It On My Own," for Whitney Houston's 2003 CD, which went to #5 on the charts. She is currently working with Carly Simon on a number of projects.
A prolific writer, Carole also authored a novel, "Extravagant Gestures," published by Arbor House, a division of Random House, in 1988.
In 1999, Carole co-founded Tonos, an online network dedicated to giving opportunities and access to musicians all over the world by allowing them to network with one another and to be heard by some of the greatest talents in the music industry.
In addition to the enormous amount of money Carole donated to AIDS research and treatment through the sales of "That's What Friends Are For," and the upcoming "Save the Children" charity CD, Carole has donated her time and talents to write songs for a CD to benefit Elizabeth Glaser's Pediatric AIDS charity. Carole is also, along with Joyce Bogart the co-founder of the Neil Bogart Children's Cancer Research Labs at Children's Hospital in Los Angeles.
Carole lives in Los Angeles with her husband, Chairman/CEO of the Los Angeles Dodgers and former Warner Bros. Chairman Robert Daly, her teenaged son Christopher, and her four dogs.