Becki Newton & Michael Urie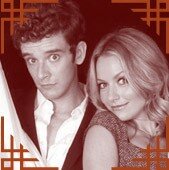 BECKI NEWTON
A native of Guilford, Connecticut, Becki grew up performing in local plays & musical theatre. In college, Becki lived and studied abroad in Argentina, Spain, Denmark, and Germany, ultimately earning a degree in European History from the University of Pennsylvania. Upon graduation, she moved to New York City to pursue her career in acting.
Becki quickly found success in television commercials, and over the course of the next 5 years appeared in over 50. Meanwhile, she hosted her own late night celebrity interview show on TBS called Movie Junky, as well as performed her own one-woman show at Duplex.
From there, Becki traveled to Los Angeles, and began work on various television shows, including American Dreams, The Mens Room, Cold Case, Charmed, The Loop (pilot), and The Dave Sheridan Project (pilot). Upon returning to NYC, she guest starred on Law and Order: SVU, and appeared in the films August Rush opposite Johnathan Rhys Meyers and P.S. with Topher Grace.
Currently, Becki plays Amanda Tanen in the award-winning comedy Ugly Betty. She also appears along-side Michael Urie in the web series Mode After Hours. On stage, she recently starred opposite her husband in the NY City Center Encores! production of "Girl Crazy"
Michael Urie appears as Marc St. James, Wilhemina Slaters ever-present sidekick, in ABCs much-lauded and adored-by-audiences Ugly Betty. The New York-trained actors work has taken him from his native Texas to Seattle, San Diego, Washington DC, Austin and the Berkshires, but he was back in his beloved New York playing a bearded geologist and getting blown away nightly by an exploding Mt. St. Helens in the off-Broadway production of "Phenomenon" when he was tapped for Ugly Betty.
The recipient of the 2002 John Houseman Prize for Excellence in Classical Theatre from the Juilliard School, from which he holds an acting degree, Urie's classical credits include Shakespeare (Hamlet for the South Coast Rep; "Othello," "Titus Andronicus" and "A Midsummer Night's Dream" for the Old Globe's Shakespeare Festival; "Romeo and Juliet" for DC's Folger Theatre; "Love's Labors Lost" for The Judith Shakespeare Company); Jacobean drama ("The Revenger's Tragedy" for The Red Bull Theatre and "The Roaring Girle" at The Foundry); and commedia del arte ("The King Stag" at Seattle Rep). He also appeared in the world premiere of "Love and Happiness" at Barrington Stage in the Berkshires in western Massachusetts.
Most recently he starred off-Broadway as iconic fashion designer Rudi Gernreich in the critically acclaimed The Temperamentals, and appears regularly in the Off-Broadway smash "Celebrity Autobiography." And just before moving back to New York with Ugly Betty, he co-starred in the world premiere of Dickie & Babe, the story of the infamous 1920s murderers, Leopold and Loeb. His film work includes the star turn as Eric in "WTC View" (2006), and he was heard last fall as Sebastian the Pug in Disneys hit Beverly Hills Chihuahua.
As producer/co-director, he is currently in post-production on "Thank You for Judging, a documentary about high school speech and debate tournaments. Having himself been the recipient of the Texas Educational Theatre Associations Founders Scholarship when he graduated from Plano High School, he has an ongoing commitment to youth and the arts. The film is part of that commitment, as is his work with CoachArt, which pairs children battling cancer with professionals in an artistic field of their choosing and which last year named him Coach of the Year.
Urie once again makes his home in New York, where he lives with his adopted and adored Brussels Griffon, Sprouts, a relationship engineered by their mutual good friend Bernadette Peters.