Betty Buckley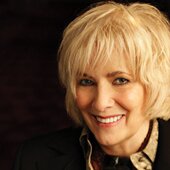 BETTY BUCKLEY won a Tony Award for her performance as Grizabella, the Glamour Cat, in Andrew Lloyd Webber's CATS. She received her second Tony Award nomination for Best Actress in a musical in the 1997-98 Broadway season for her performance as Hesione in TRIUMPH OF LOVE, and an Olivier Award nomination for her interpretation of Norma Desmond in the London production of Andrew Lloyd Webber's SUNSET BOULEVARD, which she repeated to more rave reviews in the New York Production.
Buckley added to her critically acclaimed work the role of Mama Rose in the great American musical GYPSY for the renowned Papermill Playhouse. Her other Broadway credits include Lloyd Webber's SONG AND DANCE and the role of Margaret White in the cult musical CARRIE, for which she was nominated as Best Actress in a Musical by the Outer Critic's Circle. She made her Broadway debut creating the role of Martha Jefferson in the musical 1776, was Catherine in Bob Fosse's PIPPIN and was Edwin Drood for the New York Shakespeare Festival in THE MYSTERY OF EDWIN DROOD. And in London she starred as Fran Kubelik in PROMISES, PROMISES, for which she received a nomination from the Evening Standard for Best Actress in a Musical.
She most recently reprised the role of Jenny Diver in THREEPENNY OPERA at the Williamstown Theatre Festival. Off-Broadway she starred in The Vineyard Theatre's production of Nicky Silver's THE EROS TRILOGY and previously in Second Stage's production of JUNO'S SWANS. At Hartford Stage, she played the role of Marguerite Gautier in Tennessee Williams' CAMINO REAL , starred in A.R. Gurney's "BUFFALO GAL" as Amanda at Buffalo's Studio Arena Theatre and in William Finn's song cycle "ELEGIES" at the Mitzi E. Newhouse Theatre at Lincoln Center.
Her film appearances include her debut in Brian de Palma's screen version of Stephen King's CARRIE, Bruce Beresford's TENDER MERCIES, Roman Polanski's FRANTIC, Woody Allen's ANOTHER WOMAN, and Lawrence Kasden's WYATT EARP.
Most recently she played the character of Cheryl Fleming on the USA Network series MONK and as Suzanne Fitzgerald in the HBO Cable series OZ. Her work on television has included starring roles in mini-series and movies for television, including four seasons as Abby Bradford in the hit series EIGHT IS ENOUGH. She received two Emmy Award nominations for the After-School Specials: BOBBY AND SARAH and TAKING A STAND, which was named outstanding Children's Special of the Year and features a musical score co-written by Ms. Buckley.
For PBS, she was the host for a special called THE WOMEN OF TIN PAN ALLEY, and also starred in the 1996 Holiday Special for American Movie Classics' Emmy Award-winning series REMEMBER WENN. The Bravo Cable Network has aired a documentary about her life and work called BETTY BUCKLEY IN CONCERT AND IN PERSON.
Concord Records released her newest album, STARS AND THE MOON, BETTY BUCKLEY LIVE AT THE DONMAR which received a 2002 Grammy nomination. Recorded live at the Donmar Warehouse in London, it includes standards such as "Just The Way You Look Tonight" and "Send In The Clowns," pop tunes such as "Fire and Rain" by James Taylor, as well as several songs by contemporary composers including the poetry of American poets Dorothy Parker, Emily Dickinson and Edna St. Vincent Millay. Image Entertainment has released a video and DVD of the concert as well. Her new CD, "THE DOORWAY," released this past fall, is a special tribute to September 11th, with a share of the proceeds going to a relief fund.
Ms. Buckley does extensive concertizing with her ensemble, and has now completed eight CDs. Her fourth album, entitled AN EVENING AT CARNEGIE HALL, was recorded live in 1996 at her triumphant sold-out Carnegie Hall debut, a benefit concert on behalf of BROADWAY CARES/EQUITY FIGHTS AIDS. Kevin Duncan co-produced the Carnegie Hall concert with Ms. Buckley and together they have founded KO Productions.
In the spring of 2000, KO Records released its first recording called HEART TO HEART, a collection of love songs - contemporary, traditional and popular - as interpreted by Buckley and renowned pianist Kenny Werner, her long-term collaborator. The second release for the label was a re-release of Buckley's famed, standing-room-only concert at St. Bartholomew's Church in New York City. Rizzoli Records originally released this album, called BETTY BUCKLEY: FIFTEEN YEAR ANNIVERSARY RE-RELEASE, in 1986. Both albums feature songs and compositions by Ms. Buckley.
For over twenty-five years Ms. Buckley has been a teacher of acting technique and song interpretation, giving workshops in Manhattan at the Terry Schreiber School and various universities and performing arts conservatories. She has been awarded two honorary doctorates of fine arts for her contribution to the musical theatre by Marymount College and the Boston Conservatory of Music. Other awards include "Showstopper of the Year" by Lancome of Paris and New York Woman magazine and the 1996 WCC "Civic Spirit" award. In June of 2000 she received a "Last Frontier Award" at the Edward Albee Theatre Conference in Valdez, Alaska for Distinguished Achievement in the American Theatre.