Jo Dee Messina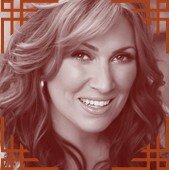 Jo Dee Messina is an award-winning, multi-platinum recording artist that has given her heart and soul to find success. She?s had 9 #1 singles, has been honored by The Country Music Association, The Academy of Country Music and The Grammy Awards and was the first female country artist to score three multiple-week #1 songs from the same album. But success aside, Jo Dee has faced more than her fair share of adversity. She?s battled some demons along the way and experienced the twists and turns that define all of our lives. If anything these life experiences have re-invigorated her and given her a new perspective, which in turn has produced, in her words, her truest recording to date.
Delicious Surprise is Jo Dee?s 4th studio album. It is that rare recording that captures the true essence of an artist?s soul. You see, rather then talk about what has occurred in her life, Jo Dee has chosen to sing about it. She?s put together a group of songs that come from her heart, a group of songs that are meant to convey a musical message of optimism, strength and hope. As the songs say, while life?s experiences may be hard, it?s those experiences that make us who we are and make life worth living.
The 12-track album, co-produced by Jo Dee, Byron Gallimore and Mark Bright, features five songs that were either written or co-written by her. ?It Gets Better? shares an optimistic message of hope from a woman that has ?felt the chill of this world and come face to face with the devil,? written entirely by Jo Dee, which also shows the power and finesse of one of country music?s finest voices.
?Music has always been an enormous part of my life,? said Jo Dee. ?It?s not just something I do, it?s part of who I am. Songwriting to me is my refuge, a safe place to me where I can go to spell out my emotions, especially when dealing with tough situations. It helps me to gain perspective. You could say that songwriting gives me emotional freedom.?
But Delicious Surprise also contains songs, not written by Jo Dee, that capture her essence ? her feistiness, her strength and her humor. No song is more indicative of this than the powerful tongue and cheek rocker, ?My Give A Damn?s Busted? (Tony Martin/Tom Shapiro/Joe Diffie). Jo Dee?s first song released to radio in nearly two years, it marks another in a list of milestones for her ? it?s her fastest rising single ever at country radio. It?s flown up the charts and taken its place as another in a long line of Messina hits. ?My Give A Damn?s Busted,? along with ?Who?s Crying Now? (Patrick Jason Matthews/George Teren) and ?Where Were You? (Jo Dee Messina/John Bettis/Wayne Kirkpatrick) are songs that deal with broken relationships and the empowerment brought on by the choice to move on.
?Managing relationships in today?s world is so hard,? said Jo Dee. ?It?s funny in fact. We all spend so much time and energy chasing what we think matters at the time, but the truth is that what really matters are the simple things ? our family, friends and loved ones. Amazing when you realize that just living to see another day is the ultimate gift.?
Jo Dee?s optimism is infectious and it is optimism that can be felt in many of the songs on Delicious Surprise. ?Life Is Good,? (Jo Dee/Mark Selby) is an upbeat, pop-infused track that reminds us to ?grab on to today,? and to appreciate the simple things in life. ?I?ve got my two feet on the ground, I?m breathing in and breathing out. Life is good.? But it?s the album?s title track (Beth Hart/ Glen Burtnik) that offers the essence of Jo Dee ? the dreamer who understands that tenacity and audacity are the keys to achieving.
?To me, the ?delicious surprise? in life is the dreaming, getting there, without limits, without putting up boundaries, just having faith and working hard. Dreams are meant to be followed and if your heart speaks it, then it doesn?t matter how far-fetched it seems. You have to believe.?
Born in Holliston, Massachusetts, Jo Dee was first attracted to country music after hearing the recordings of Alabama and Hank Williams, Jr. As for her love for country music, it grew as fast as her respect for its heroes. Dolly Parton and Loretta Lynn, the strong women of country, that wrote and sang from the heart, and Reba McEntire, the hard-working, blue-collar girl whom Jo Dee related to best. At six, Jo Dee had her first public performance and from there on she was hooked. Thirteen brought a band that she had formed and more experience performing throughout clubs in the Northeast. Jo Dee did what she had to, to perform - booking and marketing her own shows, lugging gear and keeping the books. At 19, she made the difficult decision to move to Nashville. She didn?t know a soul, had no grand plan, but what she did know, was that she wanted to sing. It was there that Jo Dee would lay down roots and chase her dream.
In 1996, she released her self-titled debut, produced by Byron Gallimore and Tim McGraw. The album gave Messina two Top 10 hits and set the stage for her breakthrough, I?m Alright. Released in 1998, the first three single releases from the album all went to #1 - ?Bye Bye,? ?I?m Alright,? and ?Stand Beside Me,? as well as a fourth single, ?Lesson In Leavin?,? which peaked and stayed at #2 for seven consecutive weeks. In 1999, Jo Dee released Burn, her first #1 album. The multi-platinum effort, contributed two more #1?s to Jo Dee?s collection, the huge crossover hit ?Bring On The Rain? and ?That?s The Way,? as well as two other Top 10?s ? ?Burn? and ?Downtime.? Messina went on to release her favorite Christmas songs on A Joyful Noise, released in 2002, and later a Greatest Hits collection that debuted at #1 on the charts, her second #1 album.
?My greatest hope is that somewhere, somebody will hear this record, and find in it what I?ve found in music my entire life,? said Jo Dee. ?Reassurance, understanding, inspiration, strength and compassion.?
And that sentiment is what you get from the opening bars of Delicious Surprise. ?I?m Not Going Down,? (Shaunna Bolton/ Kevin Savigar) the album?s first track, is as defiant and energetic as Jo Dee herself. It is an appropriate place to start, again for Jo Dee, because no doubt she will continue to carry that intensity wherever she goes. Make no mistake, Jo Dee Messina is here to stay and despite all that she has been through she stands strong and defiant, with a clear sense of her purpose and passion. Life is good for Jo Dee, but don?t ask her about it, listen.