Tom D'Angelo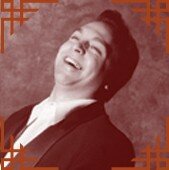 An accomplished performer in many aspects of the entertainment industry, Tom has appeared throughout North America as a concert performer in such noteworthy venues as Feinstein?s, The Metropolitan Room, Iridium, The Rainbow Room, The New York Friars Club, The Nevele Resort and the Santa Fe Hotel in Las Vegas.
Tom most recently has been performing his tribute to the Legendary Singer Bobby Darin in the show ?As Long As I?m Singing?. Shelly Goldberg of NY 1 said ?The most fun I?ve had in a night club in years?. Tom makes his return to Feinstein?s with a new show ?This Time I?m Swinging? bringing his high energy style to the hits from the Big Bands to American Bandstand.
As a stage performer audiences have seen Tom in Neil Simon?s The Prisoner of Second Ave., Barefoot in the Park and the musicals Little Shop of Horrors, A Funny Thing Happened On The Way To The Forum and Damn Yankees.
A versatile performer, he has lent his exciting tenor to a variety of charitable organizations including the MS Walk America Campaign, The Juvenile Diabetes Foundation, and The Friars Foundation. Tom can also be heard on a variety of commercials and public service announcements. You can visit Tom at his website:
Join him on Facebook and MySpace