Eric Comstock & Barbara Fasano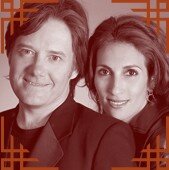 Eric Comstock and Barbara Fasano are the New York nightclub world's most celebrated team, and equally respected in jazz and cabaret circles. Their recent show at New York?s Metropolitan Room, ?WRAP YOUR TROUBLES IN DREAMS?, won unanimous critical praise. Stephen Holden of The New York Times wrote, ?Meet the new fun couple on the cabaret block . Mr. Comstock and Ms. Fasano are turning the neighborhood into a hotbead of pleasure.? The New York Post?s Frank Scheck raved, ?Their joint venture is a capital idea. When they sing together the evening is transformed from collaboration to alchemy.? In 2007, Comstock and Fasano received an unprecedented three awards from the Manhattan Association of Cabarets and Clubs.
Barbara was honored with awards for Outstanding Female Vocalist and Record of the Year for her CD, ?WRITTEN IN THE STARS? and together they shared the award for Best Vocal Duo. Individually, they have garnered critical acclaim both as performers and recording artists. Pianist, vocalist, raconteur, Eric (the co-creator and star of the hit revues, SINGING ASTAIRE, MADE FOR THE MOVIES, and OUR SINATRA) has been called ?an icon in the making? (The New Yorker) and has been praised for his ?ingenious musical wit? (The New York Times). Barbara has been called ?one of the coolest singers in town? (Time Out New York) and ?a gorgeous, soulful singer who has an actor?s intensity in whatever she sings? (New York Post). Their recordings have been played on radio stations around the world, and together they headline in nightclubs and concert halls coast to coast, as well as at Carnegie Hall, Lincoln Center, Bemelmans Bar at The Carlyle, The Oak Room at the Algonquin, Birdland, and for a distinguished roster of private and corporate clients. As critic Elizabeth Ahlfors put it, ?The sophisticated Nick and Nora of cabaret are getting better all the time.?