Yanna Avis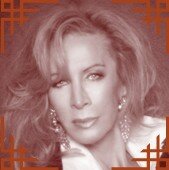 If a continental, smoky chanteuse comes to mind, then Yanna Avis makes a serious impression.
A noted stage and television French actress before she came to the United States, this Titian-tressed chanteuse knows how to land a baby grand with style; her sets, peppered with French, American, Spanish, Italian and German songs sizzle in any time zone. Her unique style of international cabaret has made her a must-see in New York?s most prestigious rooms.
At the invitation of maestro Gian Carlo Menotti, she has performed at Italy?s famed Spoleto Music Festival after Menotti heard her album ?Easy Come, Easy Go.? She was the first cabaret performer invited to the legendary festival, and after overwhelming success was asked to return to perform at the ?Cafe Chantant? on the Piazza.
On the foreign scene, she has performed in London at the Jermyn Street Theatre and in Mexico City.
Ms. Avis was trained at the National Conservatory of Dramatic Arts in Paris and graduated with a second prize in tragedy. She performed in various productions both classical and contemporary, including John Guare?s ?House of Blue Leaves ? and ?Boeing-Boeing?, a big Broadway hit this season, and appeared in films and plays on French Television.
Yanna recorded her third album: ?Speak Love to Me? with Lee Musiker, following her other two recordings: ?Easy Come, Easy Go? and ?This Time It?s Love?.
?Speak Love To Me,? released March 2009, is available in selected stores and on the internet at CD Baby, ITunes, Rhapsody, Amazon etc... including her own website at www.yannaavis.com.