Diva Jazz Trio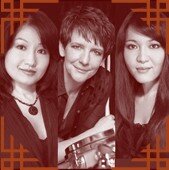 For musician Sherrie Maricle, her drum set is a real-life metaphor of her career. Just as playing the drums requires coordinating four limbs at the same time, Maricle's career coordinates successes as a jazz artist, music director, and teacher, and composer.
Tomoko Ohno was born in Tokyo. After graduating from Rikkyo University in Law and Politics, she entered the Jazz Studies Program at William Paterson University in New Jersey, where she studied with Harold Mabern and Rufus Reid, among others. During this time Tomoko had the opportunity to perform with such artists as Jerome Richardson, Wynton Marsalis, Benny Golson and Joe Henderson. A recipient of the Student Award of Outstanding Performance and a member of the Dean's List, Miss Ohno graduated with a B.A. in Jazz Studies.
Noriko Ueda is originally from Hyogo, Japan. Her musical background consists of studying classical piano since the age of 4, playing electric bass since the age of 16, studying classical voice at the Osaka College of Music where she received a diploma, and at age 19, learning the acoustic bass, which is currently her main instrument.