Gloria Reuben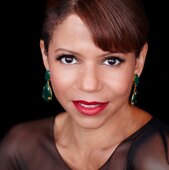 Gloria Reuben is an actress, singer and social activist who, over the past twenty years has amassed impressive credentials in television, film, theater and music.
Many will remember Gloria as the HIV+ health care professional Jeanie Boulet on the hit NBC series ER, a role that garnered her two Emmy nominations and a Golden Globe nomination. She has had multiple regular starring roles in a variety of other television series, most recently the hit TNT show Raising The Bar. Her film credits include Timecop, Nick of Time, and Shaft. Gloria will be co-starring alongside Daniel Day-Lewis in the upcoming Steven Spielberg film on Abraham Lincoln.
Gloria's portrayal of Condoleezza Rice in David Hare's play "Stuff Happens" (at New York City's Public Theater) garnered her a Lucille Lortel Best Actress Award.
Gloria's music career includes being a backup singer for Tina Turner in 2000, which led her to record her solo record Just For You. She is currently working on a new record.
Gloria is also a committed social activist. She is a special advisor on climate change for The Climate Reality Project, former Vice President Al Gore's environmental organization. She is on the Board for the National Wildlife Federation, along with being on the Leadership Council for the Natural Resources Defense Council and Waterkeeper Alliance. She is on the Leadership Council for the RFK Center for Justice and Human Rights, and she serves on the Board for SIECUS: the Sexuality, Information and Education Council of the United States.
Gloria's passion for music and storytelling has led her to create LOVE. LIFE. A night of heartfelt songs that will tell the autobiographical story of the loves of Gloria's life…love of family, friends, creativity, nature and romance.