Steve Tyrell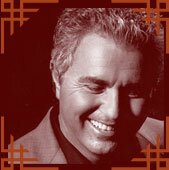 "As long as I can remember," says the best-selling jazz singer/producer/composer STEVE TYRELL, "music has played the most essential part of my holiday season." With This Time of the Year, the artist's first album of Christmas and holiday music, Tyrell evokes the sensuous warmth of the wintry fireside with a swinging collection of yuletide standards rekindling the romance and magic of the season.
Like Tyrell's previous albums of jazz standards, 1999's A New Standard and 2001's Standard Time, This Time of the Year is a deluxe collection of beloved "classics," performed with the exhilarating earthiness that has earned Tyrell the acclaim of musicians, music critics, and fan alike. Once again, Tyrell has teamed up with some of the most acclaimed musicians in jazz--including trumpeter Clark "Mumbles" Terry, harmonica virtuoso "Toots" Thielemans, and saxophone legend Plas Johnson--to bring an aura of rootsy authenticity to his sound.
Each of his earlier collections achieved breathtaking successes: A New Standard spent 84 weeks topping the Jazz Album chart, peaking at #3 while Standard Time, which hit #9 on the Billboard Heatseekers chart shortly after its release, is still riding high after 49 weeks on the Jazz chart, having peaked at #2 and spending an astonishing 40 weeks in the Top 10. According to SoundScan, A New Standard was the #4 Top-Selling Jazz album of 2000 and Tyrell the #6 Top Selling Jazz Artist in the Billboard 2000 Year End roundup. According to this year's Billboard poll, Standard Time has been the #5 best-selling jazz album of the year and Tyrell the #3 (after Tony Bennett and Harry Connick, Jr.) best-selling traditional jazz male vocalist.
Tracks on This Time of the Year include completely fresh and unique versions of "Santa Claus Is Coming To Town" (which is featured in the upcoming Tim Allen film "The Santa Clause 2," scheduled for release November 1, 2002 from Walt Disney Pictures), "Winter Wonderland," "Rudolph the Red-Nosed Reindeer," "The Christmas Song," "Let It Snow! Let It Snow! Let It Snow!," "This Time of the Year," "Have Yourself a Merry Little Christmas," "I'll Be Home For Christmas," "The Christmas Blues," "Merry Christmas Baby," "What Are You Doing New Year's Eve," and "Here Comes Santa Claus." The album was produced by Steve Tyrell; co-produced by Bob Mann and Stephanie Tyrell; and arranged by Bob Mann.
"I am thrilled and grateful to have been given the opportunity to record a collection of my favorite holiday songs," writes Tyrell in his liner notes to This Time of the Year. "It is my hope that this collection will find its way into your holiday tradition."
Growing up in the heart of Houston's notorious 5th Ward ("I was the only white boy for miles," he recalls), Steve was drawn to the sound of the region's special brand of blues and R&B. His teen years often found him on stage or in a local studio with such acts as CL & the Pictures or the Art Boatwright Band. At the same time, he was enthralled by the music of Ray Charles, Otis Redding, Bobby "Blue" Bland, Ben E. King, Chuck Jackson, Jerry Butler, and Jimmy Reed.
"Those guys were my heroes," says Tyrell. "That's where I got my instincts." His passion for music led him to a promotion gig with a Houston record distributor, while at the same time he expanded his recording experience producing local artists like Sonny & the Sunglows and Barbara Lynn. He also spent time traveling to Cosmo's Studio in New Orleans where he worked with Mac Rebennack (aka Dr. John), Allen Toussaint and Aaron Neville.
By the time he was 19, Steve had moved to New York to work for the independent label Scepter Records. It wasn't long before he was in the studio cutting sides with Dionne Warwick, the Shirelles, Maxine Brown, and former Del-Vikings vocalist Chuck Jackson. Around the same time, Steve hooked up with some of the greatest names in American songwriting: Burt Bacharach & Hal David, Gerry Goffin & Carole King, and Barry Mann & Cynthia Weil, all of whom relied on the young Tyrell in those heady early days. Steve also took fellow Houstonian B.J. Thomas under his wing. Thomas was thrust into the limelight with his smash recording of the Bacharach/David-penned "Raindrops Keep Fallin' on My Head," winner of the 1970 Best Song Oscar?. Steve went on to write such pop hits as the chart-topping "How Do You Talk To An Angel," and co-produce Linda Ronstadt's Grammy-winning singles "Don't Know Much" (a duet with Aaron Neville) and "Somewhere Out There" (a duet with James Ingram).
His 1999 debut album, A New Standard, was actually many years in the making. Steve had long been encouraged by friends, family, and total strangers to break out on his own as a recording artist. As a producer accustomed to working behind the scenes, Steve was gratified by the positive response following his high-profile performances of "The Way You Look Tonight" (in the 1991 Father Of The Bride remake with Steve Martin) and "Give Me The Simple Life" and "On The Sunny Side Of The Street" (from the 1995 sequel Father Of The Bride Part II). Then came a fortuitous encounter.
"I was running in the park and by pure chance I ran into Louie Bellson," says Tyrell. "Louie is one of the greatest drummers of the Big Band era. We got to talking and eventually I played him some of the 'Father Of The Bride' stuff I'd done. He loved it and encouraged me to do a record." Because of Louie, Steve began to realize that a lot of the players from the era were still alive and playing great! Steve fell in love with the songs as well as the musicians and that passion launched him on a crusade to shine a light on these national treasures. It has been his joy and privilege to have had a hand in keeping the songs alive. This Time of the Year is Steve Tyrell's yuletide gift to his fans and to the music and musicians he loves.