Allan Harris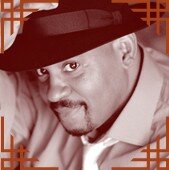 ALLAN HARRIS is a true renaissance man. As a jazz vocalist, producer, composer, guitarist, song-writer, actor, educator and three time winner of the New York Nightlife Award for ?Outstanding Jazz Vocalist,? he has made his mark as an apostle of the American Songbook. A natural entertainer, his dynamic stage presence has made him a main-stay in concert halls, theaters, jazz clubs and jazz festivals around the world. Tony Bennett calls him ?my favorite singer.? The Miami Herald wrote that Harris? voice and demeanor ?project the warmth of Tony Bennett, the bite and rhythmic sense of Sinatra, and the sly elegance of Nat ?King' Cole.?
?Harris is a velvet-voiced jazz singer, with a savvy manner and music in his veins.? (Variety) He has been a guest performer with Wynton Marsalis and the Jazz at Lincoln Center Orchestra, at Carnegie Hall, the Algonquin?s Oak Room, and he has appeared with Country Music star Vince Gill and with Stevie Wonder. He has performed for President Clinton, Jessye Norman, and Sophia Loren. Memories of his early career playing guitar and singing with country rock bands inspired Allan to create his 2006 song-cycle Cross That River, a stunning portrait of the American West. Cross That River, the musical, debuted at the famed O?Neill Theater in July 2008 and was the recipient of the Chamber Music America Residency Grant. His passion to reach children has taken him to schools, museums and performing arts centers across the country where he educates and entertains children of all ages with this story about the Black West. The children?s version of Cross That River was recently featured on the Kennedy Center?s Distance Learning program and broadcast to schools throughout the country. In addition, Allan?s songs have been licensed by the State of Oklahoma for their school's educational DVDs. The Aspen Writer?s Foundation invited Allan to debut their first musical program ?Lyrically Speaking,? during their summer festival devoted to Western writers. Allan has also been featured on NPR?s ?All Things Considered? and CBS News.
His first CD recording was "Setting the Standard" (Love Productions Records), next came "It?s a Wonderful World" (Mons Records) with bassist Ray Brown, pianist Benny Green, guitarist Mark Whitfield, trumpeter Claudio Roditi, and drummer Jeff Hamilton, features arrangements by John Clayton and Rob Pronk. "Black Coffee Blues," a song from that CD, was written in collaboration with Ray Brown. He recorded "Here Comes Allan Harris and the Metropole Orchestra," (Mons). Trumpeter Clark Terry, vocalist Claire Martin, and Berlin?s Rias Big Band joined his Tribute to Duke Ellington. "Love Came, the Songs of Strayhorn" (Love Productions Records), is a tribute to Billy Strayhorn. Mr. Harris sang the leading role on the DVD and CD of Duke Ellington?s Sacred Mass, featuring trumpeter Jon Faddis and singer Michele Hendricks. On his latest release, ?Long Live the King? recorded live at the Kennedy Center, Allan pays homage to one of the most recognizable singers on the planet, Nat King Cole. Harris treats each of these classics, from ?Nature Boy? to ?It?s Only a Paper Moon? to ?(I Love You) For Sentimental Reasons,? with his fullest respect. Says Allan: ?This 13 song tribute to Mr. Cole is my most heartfelt recording to date and a culmination of years of love and appreciation to those who were gracious enough to compare me to this remarkable man.?
Will Friedwald, the author of Jazz Singing and Sinatra calls him "probably the most exciting singer on the scene." CNN's Showbiz Tonight referred to Harris as "one of the three best male jazz vocalists in the country." The New York Times? Stephen Holden wrote ?an extremely relaxed and tasteful crooner in the Nat ?King? Cole tradition?
Allan continues to devote much of his time to philanthropic enterprises that help children such as the Aspen Youth Experience, the Children?s Miracle Network, and Challenge Aspen.