Raissa Katona Bennett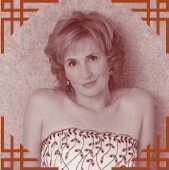 Raissa Katona Bennett - On Broadway, Raissa performed the leading role of "Christine Daae" in PHANTOM OF THE OPERA, as well as the Los Angeles and National Touring Companies of PHANTOM. Also on Broadway, Raissa appeared in the Actor?s Fund Benefit Concert of CHESS. She appeared in the First National Tours of CATS as ?Jellylorum/Griddlebone? and ?Jennyanydots?, and as ?Lizzie Phagan? in PARADE, where she worked with the original creative team of director Harold Prince, choreographer Patricia Birch, author Alfred Uhry, and composer Jason Robert Brown. As an original cast member of SAVIN? AIMEE, Raissa had the joy of working with its wonderful creators: Kathie Lee Gifford, David Friedman, and David Pomeranz.
As a cabaret performer, Raissa received a 2009 MAC Award nomination for Outstanding Female Vocalist, and she has received critical acclaim for her performances at the Metropolitan Room, Iridium, Supper Club, The Rainbow Room, 88's, Don't Tell Mama, Chita's, The Algonquin, and Radio City Music Hall. She has soloed with many symphony orchestras and was guest soloist at the estate of the legendary Cal Ripken, Jr. She was featured at the Lincoln Center Barnes and Noble in their Any Wednesday series, performing selections from her first CD, WHAT I WAS DREAMING OF.
Raissa is the creator, producer and host of THE CONCERTS AT TUDOR CITY GREENS ? a series that is devoted to presenting the best in NYC Cabaret and Broadway to new audiences, while supporting Manhattan?s few remaining green spaces.
Raissa?s cabaret shows are co-written and directed by Eric Michael Gillett (www.ericmichaelgillett.com) an acclaimed performer of Broadway, Concert and Cabaret, and a MAC Award winner for Best Director. Her Musical Director is David Caldwell. David was the musical director of the long running off-Broadway hit FORBIDDEN BROADWAY. He conducted the American premiere of Stephen Schwartz?s CHILDREN OF EDEN and composed music and lyrics for Robert Fulghum?s ALL I REALLY NEED TO KNOW I LEARNED IN KINDERGARTEN, is the Musical Director and arranger of Raissa?s newest CD, available for the first time, at this performance.
Raissa lives in Tudor City with husband Dr. Garrett Bennett, and their 2 tiny rescue dogs, Brandy and Otie. For more info: www.raissa.info.