Pucci Amanda Jhones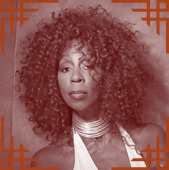 Pucci Amanda Jhones is New York?s best kept secret. A Graduate from The New School University with a Bachelors of Fine Arts degree in Classical and Contemporary Music. While music has always been her 1st passion, at a striking 6?1,? Pucci Amanda Jhones has graced the catwalks of New York, Paris and Milan as a model for many distinguished designers.
As a well-respected vocalist, Pucci Amanda Jhones has performed internationally for many years in several major venues around the world. Venues include The Park Hyatt Hotel in Shinjuku, Japan and the Officers Club in Yokohama. Her talents have taken her to Kuala Lumpur where she performed at the Renaissance Hotel, Half Note Jazz Club in Athens Greece, the Q Jazz Club in Istanbul, Turkey and the Arosa, Ski Resort in Switzerland. In Las Vegas, she was dubbed as the ?Josephine Baker? of the strip while performing at Bally?s Hotel & Resort.
While in New York City, where she lives, Pucci has performed at Birdland, Blue Note, the Lenox Lounge and the Kitano Hotel. This past summer she was part of the Central Park Summer Stage where she performed in front of hundreds, at the Dana center in Harlem. Most recently Pucci Amanda Jhones received great reviews while performing at the Four Seasons Hotel in Paris France.
As an acclaimed Jazz recorded artist, she has shared the bandstand with such greats as Dizzy Gillespie, Kenny Barron, Freddie Hubbard, Jacky Terrasson, Stanley Turrentine and Freddie Cole.
The promoter of CD 101.9's Cool Summer Jazz Cruise chose her as the opening act for Dizzy Gillespie and Stanley Turrentine. Pucci has earned her well-deserved reputation among Jazz cognoscenti in New York and the rest of the world for her highly original voice. Over the years, great musicians such as, Terri Thornton, Roy Hargrove and Wallace Roney have sat-in on her New York gigs with former band members Jacky Terrasson, Ugonna Okegwo and Cody Moffett.
"Sweet Dreams" (CADENCE, Jazz label) Pucci?s debut recording, was a dedication to her mother. It features a slow blue-y ballad arrangement of "I Got Rhythm" and a wonderful rendition of ?Day by Day? along with a marvelous Buster Williams chart of "Harlem Nocturne? Pucci's interpretations are hers alone.
"Wild Is the Wind" (CIMP, record label) Second recording, features her highly original interpretation of 12 standards. It was hailed as extremely creative because of its recording style one microphone, along with the band where they recorded as a group in a soundproof room. Listen closely to the record as she takes liberties with tempo and line, while maintaining the integrity of the composition. Above all, go see her perform live, where the eyes and ears together can relish one of Manhattan's great jazz singers.
Reviews:
Sweet Dreams
?Vocalist Pucci Amanda Jhones is backed by a group of eight musicians, including pianist Kenny Barron, for this delightful debut. Jhones sings with a deep, sultry voice, covering such popular tunes as "Day by Day," "Red Top," and "I Got Rhythm." Her mature style incorporates some of the inflections of the jazz masters. Her impressive command of the idiom shows an affinity for bending tones, slightly shifting tempos, and light swing. While little of her work is original, her pleasing, controlled voice catalyzes the band, particularly when she lets loose, as she does to great effect on "Red Top." Pianist Barron is in top form, as usual, and adds considerably to the mix. Trumpeter Kenyatta Beasley, tenor saxophonist Karl Martin Almquist, alto saxophonist Casey Benjamin, and drummer Dwayne "Cook" Broadnax share the limelight.? ~ Steve Loewy, All Music Guide?
Wild as the Wind
?Wild as the Wind? was Pucci Amanda Jhones? second recording, released on Cadence Records. It?s a remarkably strong and distinctive debut. While listening to her rendition of Diamonds is a girl?s best friend? it put me in the mind of Sarah Vaughn. However, when I closed my eyes it was distinctively a quality of her own. ~Erin Shannon,
Along with singing career, Pucci Amanda Jhones has earned substantial success and recognition in the real estate community. The first female African-American Senior Vice President of Douglas Elliman, Amanda specializes in the sale and purchase of apartments and townhouses in some of New York?s most exclusive neighborhoods. From ?The Amanda? Condominium in Harlem, adorned with her name, to Downtown Manhattan and the outer boroughs, no one knows how to navigate the New York market and its key players like Amanda Jhones.
A true testament of Amanda's brilliant record, new and repeat clients consistently turn to Amanda for her comprehensive knowledge and guidance. Whether buying, selling or investing, Amanda lends valuable insight from every angle of the deal; drawing on her decade of experience with celebrity clients right down to the first time homebuyer.
Pucci Amanda Jhones is a ?Gracious storm? in her own right, with talents that soothe the mind, body and soul of many all over the world and here in New York. Her knowledge and edge has allowed her success in other industries that reflects the inner beauty of who she really is.
She has often been called a Jazz singer, a Cabaret singer, a Blues singer or a Saloon singer. Admiring the work of Bobby Short, Lena Horn, Eartha Kitt, Margret Whiting and Diahann Carroll, Pucci Amanda Jhones is looking to become the celebrated chanteuse of New York City.