Lorenzo Lamas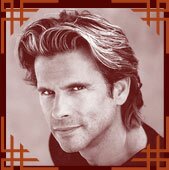 LORENZO LAMAS was born in Santa Monica, California to actors Fernando Lamas and Arlene Dahl. He grew up in the Pacific Palisades where he attended public schools. At twelve, Lorenzo enrolled at Admiral Farragut Academy in New Jersey. He graduated in 1975. While continuing his education at Santa Monica City College, Lorenzo participated in their Swim Team and Drama Classes.
Lorenzo left college in 1976 to study acting at Tony Barr's Workshop in Burbank, California. This led to various "bit part" roles on television shows such as SWITCH and DEAR DETECTIVE. His first big break came when Alan Carr cast him in the successful musical GREASE. He was next cast in the leading role of the independent feature, TAKE DOWN.
Though Lorenzo is well remembered as the male lead on CBS's long running hit show FALCON CREST, he re-established himself as an action star incorporating his martial arts and athletic abilities in many Canadian movies such as SNAKEATER, SWORDSMAN and FINAL IMPACT.
In 1992, Stephen J. Cannell developed RENEGADE for Lorenzo. The series lasted five years, earning him an even wider audience. Lorenzo has since starred in two popular syndicated series: AIR AMERICA and most recently THE IMMORTAL.
Lorenzo currently resides in Los Angeles, California.