Jon Secada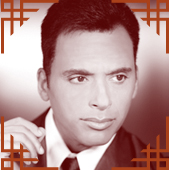 Jon Secada, one of the most gifted artists of our time, is not only blessed with a soulful voice, but also with an artistry to create, write and produce music. The millions of people worldwide who have followed the radiant career of this international superstar have witnessed the inimitable talents of this legendary artist.
Secada, born in Havana, Cuba, arrived with his parents to the United States at the age of nine. While attending school, his family managed a coffee shop. It wasn?t until well into his teens that Jon discovered his gift for music. Growing up in the culturally diverse city of Miami, Jon was exposed to many different sounds. Although salsa, merengue and tropical rhythms filled the radio airways, Jon developed a passion for R&B and Pop. Inspired by musical moguls such as Stevie Wonder, Billy Joel, Elton John and Marvin Gaye, Jon?s music is an eclectic fusion of all these sounds. With a bit of funk, soul and undertones of Latin percussion, much like his character, Jon has accomplished a unique and striking sound.
After graduating from Hialeah High School, Jon enrolled at the University of Miami where he became an accomplished jazz musician. He completed a Bachelor?s degree in Music and a Master?s degree in Jazz Vocal Performance. Simultaneously, he began developing his considerable skills as a songwriter. Then, in the late 1980?s, Jon met Gloria and Emilio Estefan, Jr. At the time, he was unaware of the impact this meeting would have on his career. Soon after they met, Jon was invited to join Gloria?s band as a background singer. Shortly thereafter, the group realized his potential and he quickly became a valuable addition to the group. His incredible talent as a songwriter became evident when he started composing music including some of Gloria?s best ballads. Among other tunes, Jon co-wrote and sang background on ?Coming Out of the Dark,? Gloria?s number one hit from her 1991 album Into the Light. During Gloria?s ?Coming Out of the Dark? tour Jon was given the life-changing opportunity of taking over the stage and performing solo. The crowd loved him and later, his career took off into a solo act.
His self-titled debut album Jon Secada (SBK/EMI), released in 1992, skyrocketed the career of this male vocalist. With his noticeable florid and solid singing style, this first album sold an astonishing six million plus copies worldwide and was certified triple platinum in the U.S., where it reached No. 15 among Billboard Pop albums. He later scored a No.5 Pop hit with the Gold single ?Just Another Day,? and three more top 30 hits, ?Angel,? ?I?m Free,? and ?Do You Believe in Us?? The Spanish-language version of the album, Otro Dia Mas Sin Verte (EMI-Latin), became the Number One Latin album of 1992 and earned Jon his first Grammy Award, for Best Latin Pop Album.
This landmark success was followed in 1994 by Jon?s second album, Heart Soul and Voice (EMI), which featured members of The Miami Sound Machine and guests Arturo Sandoval (trumpet) and Betty Wright (background vocals). The album went Platinum in the U.S. and spun off the Top Ten Pop hit ?If You Go? and a Top 30 hit ?Mental Picture.? His third album on EMI,Amor, was released in 1995 and earned the singer his second Grammy Award for Best Latin Pop Performance. Jon was once again honored at the 48th Annual Grammy Awards in 2006 whenSongs From The Neighborhood: The Music of Mister Rogers, featuring twelve of today?s top artists including Jon, won the Grammy for the ?Best Musical Album For Children.?
Over the years Jon has amassed a career sales total of more than 20 million albums worldwide and has repeatedly shown his multi-faceted talent. He is not only a successful singer and songwriter, but also an accomplished producer. He has played a leading role in the recent careers of many extraordinary artists. He co-wrote the song ?Bella,? the Spanish version of ?She?s All I Ever Had,? for Ricky Martin?s 1999 Multi-platinum self-titled album. He also co-wrote and co-produced the song ?Baila? for Jennifer Lopez, which appeared on her 1999 multi-platinum album, On the Six. He worked with teen singing sensation Mandy Moore on two of her tracks, ?One Sided? and ?It Only Took a Minute? from her self-titled multi-platinum album.
A three-time Grammy award winning recording artist, a dynamic live performer, a talented, insightful, songwriter, Jon is an international superstar in his own right. He?s performed with opera legend Luciano Pavarotti and recorded a duet with the late Frank Sinatra on ?The Best Is Yet to Come? from Sinatra?s Duets II album.
Since the beginning of his solo career, Jon always explored a tremendous love for the theatrical stage, dating back to the beginning of his college career. This dream was realized in 1995 when Jon stared on Broadway?s hit musical Grease, where he acted in the lead role of ?Danny Zuko.? He was an immediate sensation. Following the rave reviews of Grease, Broadway called upon him once again in 2003 where his mastery of theatrical stage was challenged in what he calls ?the most important step in his career.? He played the Emcee role in Sam Mendes? critically acclaimed version of Cabaret. Clive Barnes of The New York Post writes, ?For the first long 30 seconds or so of Jon Secada?s bravura, powerhouse performance I had my own preconceived doubts, but the man is just a wonderful performer, and, with out really changing the Mendes/Cumming persona, he fits it around his own flamboyant individuality.? Cabaret earned 4 stars in the review. In the fall of 2004 Jon also starred as ?Joseph ? in Andrew Lloyd Webber?s & Tim Rice?s theatrical hit Joseph and the Amazing Technicolor Dreamcoat.
Over the 2005 holiday, Jon released his brand new rendition of ?Feliz Navidad,? a tribute to his friend Jose Feliciano. The track quickly became the #1 most listened to Christmas song in America.
Jon was appointed by President Bush to serve on his Advisory Commission on Educational Excellence for Hispanic Americans. This committee is charged with creating a multi-year action plan aimed at closing the educational achievement gap between Hispanic students and their peers. ?I am honored to have the opportunity to be a part of such an important initiative and make a difference in the Hispanic community,? stated Jon.
Apart from his dedication to music, Jon has devoted himself to assisting charitable organizations. He has a lifelong commitment to community service and charity endeavors. He has been very active with many causes to help children; from education, to aids research, to child abuse. His commitment to education and helping others lead him to create the Jon Secada Music Scholarship at the University of Miami. He has been instrumental in raising funds in Washington, D.C. for the NARAS national effort ?Keeping Music in Schools.? He is a supporter of many initiatives including the Pediatric Aids Unit at Jackson Memorial Hospital, the Lifebeat Concert to benefit Aids, Amigos Together for Kids, Make-A-Wish Foundation, the Boys and Girls Club, among a host of other charitable organizations.
After the tragic events of September 11, 2001, Jon co-wrote and recorded ?The Last Goodbye,? a tribute song dedicated to the families of the victims of the terrorist attacks. This song, along with three other versions including an all-star version in Spanish with the participation of over 100 Hispanic Artists around the world, was released as a single with all proceeds going to the family?s victims. To date, the single has raised over a quarter of a million dollars for the tragedy?s victims.
In addition, Jon has been very active in the Hurricane Relief Efforts. In the aftermath of Hurricane Katrina, Jon and several fellow Latin entertainers including Grammy-Award winning singer Gloria Estefan, her husband Emilio, actors Jimmy Smits, Andy Garcia, trumpeter Arturo Sandoval, and television personalities Daisy Fuentes and Don Francisco visited Biloxi and Baton Rouge as representatives of the American Red Cross. The visit included delivery of a planeload of supplies and toys to shelters in the devastated areas.
Although Jon devotes much of his time to his music, he remains grounded and fully aware of the importance of family. In 1999 Jon and his wife Maritere welcomed their beautiful baby daughter Mikaela Nina into the world and then in 2002, their second child, a baby boy, Jon Henri, arrived. As he reflects upon his life and career, Jon says: ?I would say my career has been a whirlwind. I am very blessed with everything that has happened in my life. To be able to write good music and enjoy my family has always been a dream. I am now living that dream.?