Ashford & Simpson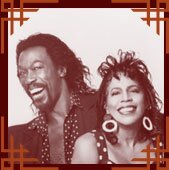 The husband and wife duo NICKOLAS ASHFORD and VALERIE SIMPSON have had dual careers as performers and songwriters, having provided many iconic artists with some of their biggest hits. Their songs have been recorded by legends such as Aretha Franklin, Diana Ross, Ray Charles, Whitney Houston, Marvin Gaye, Chaka Kahn, Mary J. Blige, Smokey Robinson, Gladys Knight, Ronnie Milsap and Nina Simone, among many more.
Ashford & Simpson met in 1964 and scored their first songwriting hit in 1966 with Ray Charles' recording of their "Let's Go Get Stoned." After a period at Scepter Records, they moved to Motown, where they wrote hits for the duo of Marvin Gaye and Tammi Terrell ("Ain't Nothing Like the Real Thing," "You're All I Need to Get By"). When Diana Ross left the Supremes for a solo career, Ashford & Simpson wrote "Reach Out and Touch Somebody's Hand" for her. Their own performing career was launched in 1973 with Keep It Comin' on Motown and Gimme Something Real on Warner Bros. Their first success came in 1977 with the gold-selling Send It, which contained the Top Ten R&B hit "Don't Cost You Nothing."
Is It Still Good to Ya, a second gold album, contained the number two R&B hit "It Seems to Hang On" in 1978. Stay Free, their third straight gold album, contained "Found a Cure," another R&B smash that also made the Top 40 on the pop chart. A Musical Affair, in 1980, featured the hit "Love Don't Make It Right." Their performing career saw a huge resurgence in 1984 with Solid, which went gold and produced the R&B #1 smash "Solid" (#12 on the pop charts).
Their own record label, Hopsack and Silk, launched in 1996 with Been Found, a collaboration with poet Maya Angelou. That year, ASCAP presented them with their highest honor, the Founders Award and in 1999 they received the Pioneer Award from the Rhythm & Blues Foundation. They have also hosted a long-running radio program on KISS FM Radio.