Jane Monheit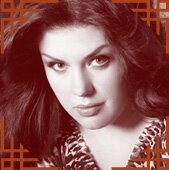 It's hard to believe that a scant seven years have passed since a 22-year-old Long Islander named Jane Monheit -- now renowned as one of the world's most beloved and accomplished song stylists -- signed her first recording contract, for Manhattan's relatively small but enthusiastically supportive N-Coded label.
Her debut album, Never Never Land, introduced the world to two indisputable facts. First, as the cover portrait demonstrated, Monheit is a stunning, raven-haired beauty. Second, as the ten standards that filled the impressive disc made immediately obvious, Monheit, with her crystalline voice and buttery phrasing, was (and remains) impossible to pigeonhole, simultaneously suggesting the smarts of a seasoned jazz artist and the cunning storytelling skills of the finest cabaret performers.
Since then, two of her recordings have received Grammy nominations, she has known the sweet satisfaction of chart-topping success (several of her discs have debuted at number one), done her festive duty with a stunning Christmas album (The Season), and found herself moving to Sony for her two most recent albums, 2004's Taking a Chance on Love and the subsequent yuletide disc.
Now, for Surrender, her seventh album in as many years, Monheit has opted to follow such estimable vocal predecessors as Rosemary Clooney, Mel Tormé, Ray Charles, Curtis Stigers and Karrin Allyson into the artist-friendly fold of the Concord Music family.
For Monheit, Surrender also marks an artistic 'coming home' of sorts, since the evocatively intimate title track was penned by masterful composer, arranger and vocalist Peter Eldridge (of New York Voices and Four Brothers fame), Jane's first and only vocal coach, with whom she studied at the Manhattan School of Music while still in her teens.
"Peter didn't write "Surrender" for this album, but he did write it recently," Jane explains. "He recorded it once himself, but other than him I'm the first person to record it. I've wanted to record one of Peter's tunes forever, but my previous albums were really standards-based. With the sort of time period I'm working on with this album, which is largely music of the 1960s and onward, it finally seemed the right project to include one of his songs, and "Surrender" is my current favorite."
Surrender finds Jane in the welcome and familiar company of regular bandmates Michael Kanan (piano and Fender Rhodes), Miles Okazaki (acoustic and electric guitars), bassist Orlando Le Fleming, saxophonist Ari Ambrose and drummer Rick Montalbano (whose connection to Monheit runs deeper than any of her other accompanists -- last Spring, they celebrated their fourth wedding anniversary), and the move toward more contemporary material was, she says, "very intentional. It is where I had naturally been leaning in my own life, and when it's time to make a record you've got to go in and do what's really feeling right."
Among those celebrated on Surrender's 10 tracks is Henry Mancini, with a velvet soft rendition of "Moon River," though Jane still considers the Audrey Hepburn original, as performed on the back stoop of an Upper East Side apartment in Breakfast at Tiffany's, her "absolute favorite version ever. Nobody can touch that. My husband and I can't even listen to it without crying. Half the time when I sing it [in concert], I can't get through it without getting choked up. A lot of personal memories are attached to it."
It was Surrender's iconic producer, Jorge Calandrelli, who added the string chart for "Moon River." Those gorgeously lush strings, so ideally suited to Jane's voice and style, are indicative of the many exquisite touches the legendary Argentine producer-arranger-composer, whose stellar resume includes two Oscar nods and 23 Grammy nominations, brings to the album. Indeed, it is wonderful to see Jane, who simply and accurately describes Calandrelli as "brilliant," in the same expert hands that have helped shape landmark albums for Barbra Streisand, Tony Bennett, Celine Dion, Johnny Mathis, Eddie Daniels, Bette Midler, Barry Manilow and dozens of other international stars.
Strings also figure prominently on Johnny Mandel and Paul Francis Webster's sublimely tender "A Time for Love," a satin-lined love song strongly associated with Peggy Lee. But it is Ari Ambrose's gorgeously burnished sax solo that underscores the tender track's twilight intimacy.
Prior to the Mancini, Mandel and Webster, came Stevie Wonder, whose "Overjoyed" was, says Jane, "the very first song we chose for the record." Her deliciously sexy, sultry reading is built around "another brilliant arrangement by my guitarist, Miles Okazaki. He did the "Overjoyed" chart for me a long time ago, just because I really wanted to sing the song. It is a tune he and I both really love. Actually, we're all Stevie freaks in this band, so I asked him to arrange it for me and give it a slightly Brazilian feel."
As Jane's recording history so clearly indicates, the beat of Brazil is never far from her musical heart. Indeed, her fascination with Brazilian rhythms, rhymes and composers dates all the way back to Never Never Land and its gently cheerful "Dindi" and continued apace through 2001's Come Dream with Me and In the Sun (which marked Jane's first recording in Portuguese, with a superbly satisfying reading of Ivan Lins' "Comear de Novo"). "It is an absolutely stunning language," enthuses Jane. "I love Brazil and it's people. We've traveled there so much, and because of the incredible experiences we've had there, it has become very important to us to play this music with as much authenticity as possible, out of our tremendous respect for the composers. A lot of the songs don't have translations, or if they do they are bad ones; and I just love singing in Portuguese." On Surrender, she adds Antonio Carlos Jobim and Newton Mendonca's "Caminhos Cruzados," featuring a warm, welcoming harmonica solo by the inimitable Toots Thielemans, Jobim and Aloysio de Oliviera's "S Tinha de Ser Come Voc" and Lins' "Rio de Maio," presented as a vocal duet with the composer himself, to her Portuguese repertoire. "Ivan is a very good friend of mine and probably my hugest musical inspiration," says Jane. "I really can't imagine my world without his music. I've been listening to his music for almost half my life, and it's just the most beautiful, amazing, inspiring music ever. To have him singing with me [it is the third vocal duet they've recorded] makes it, of course, even more special."
But Surrender's strong Brazilian undercurrent extends even further. "I knew," says Jane, "that I wanted this project to focus more on Brazilian music because that's where my life is and where my band is. It's not just me, but the entire band that has been moving in that direction. What's happening with the guys in the band is very, very important to me. Even though I'm considered a solo artist, being part of a band is of utmost importance to me, so we tend to move together in the same direction, and for years we've all being moving more and more toward Brazilian music. I thought it would be a nice idea to do an album of romantic bossa novas and then intersperse them with ballads, so that's what happened." Additional Brazilian-influenced tracks include the haunting "If You Went Away," co-written by Marcos and Paulo Valle with Ray Gilbert, and two songs strongly associated with Sergio Mendes (both featuring English lyrics by the husband-and-wife team of Alan and Marilyn Bergman), the sweet, tender "Like A Lover" and the romantically expansive "So Many Stars." For the latter, Mendes crafted the arrangement himself, produced the track and provides the piano solo. Having the master by her side was, says Jane, "very, very cool. I'm a lifelong fan of his work. I'd go into the studio and be like, "Wow! There's Sergio Mendes sitting right there!" I'd already recorded "So Many Stars" [for Come Dream with Me], but because I had the opportunity to record it with him I immediately said, 'I'll do it again!' It's a beautiful song, and to do it alongside the man who composed it was an incredible opportunity. The first time I did "So Many Stars," the arrangement was done by a jazz pianist with a vocal arrangement written by me. This time, Sergio put together the entire track himself. I wasn't present for any of it. This was the first time that I came into the studio and all I did was sing. It was a very different thing for me. Usually I'm very involved in the making of the track, but this was completely Sergio. It was his song in his style; and it was cool to do it that way."