Daryl Sherman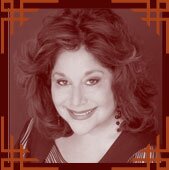 According to The New Yorker, singer and pianist Daryl Sherman "has yet to meet a standard whose charms she couldn't extract... and manages to find contemporary resonance in everything." A sparkling mainstay of Manhattan nightlife, she regularly performs on Cole Porter's Steinway at the Waldorf Astoria and has been lauded for appearances at the Algonquin's famous Oak Room, Iridium Jazz Club and most recently, Jazz At Lincoln Center with Wynton Marsalis. European tours included a dazzling fourth return engagement at London's Pizza On The Park, and concerts in Wales, Leeds and Scotland. She also made a stunning debut in Berlin hailed by Jazz Radio 101.9 "a magical night." Equally at home in the worlds of jazz and cabaret, Daryl Sherman's many recordings have received high critical praise and airplay internationally. Her CD, Jubilee (Arbors) with Dave McKenna received four stars in Downbeat and was cited one of the year's best (2000). And with her new tribute to Richard Rodgers, A Hundred Million Miracles (Arbors) "Sherman proves that she can more than hold her own in the company of musicians as weighty as Ruby Braff and tenor saxman Houston Person." - London Times. Other notables she has performed and recorded with include Bob Dorough, Dick Hyman, Bucky and John Pizzarelli, Tommy Flanagan, Ken Peplowski, Joe Cohn, Jay Leonhart, Kenny Davern, James Chirillo, and Boots Maleson.
Major jazz festival appearances include JVC in New York and Newport, Atlanta, March of Jazz in Clearwater, and aboard the QE2. She has headlined clubs including the Colony in Palm Beach, Blues Alley in Washington, DC, the Jazz Bakery in LA, and Top of the Senator in Toronto and Arts Centers across the continent from Winnipeg to Fort Lauderdale. She is a favorite at both New York's Highlights In Jazz and St. Peter's Midday Jazz series, the Mabel Mercer Foundation Cabaret Conventions in NYC, San Francisco and Chicago, also recently presented with "Cabaret Classic Award". Daryl's voice is heard weekly in Maya The Bee, a widely acclaimed puppet show produced by The Culture Project. She has also been a featured guest on Fresh Air with Terry Gross and Marian McPartland's Piano Jazz, all broadcast nationally. As McPartland said of Sherman, "She's sophisticated, she's straightforward and she can swing!"
At the age of five, Daryl began to pick out tunes at the piano and sing along when her dad, a popular bandleader in her native Woonsocket, R.I. brought out his trombone to jam with friends. Soon Sammy Sherman was featuring his daughter on gigs and by her teens she was already a seasoned pro. In later years the roles reversed with Daryl's annual home-coming concerts at local jazz mecca Chan's. Sammy Sherman's unique trombone, fiddle and repartee were integral portions of the show. (A CD from those sessions is available on Arbors.) When Daryl first headed for New York after college, she sat in with home-town idol, Dave McKenna, then a regular at Michael's Pub. That led to other jams with such notables as Red Norvo and Milt Hinton. Another legendary bassist, George Duvivier and singer Sylvia Syms also had great influence on her development. When Artie Shaw formed a new band after his retirement, Daryl Sherman was his singer of choice. Other big bands with which she's appeared include Germany's WDR Jazz Orchestra, recreations of the Paul Whiteman Band (cast in the Mildred Bailey role) and the American Jazz Orchestra. "Effervescent and madly talented!" says Rex Reed. "In Sherman's imaginary world, (London Times) Rodgers and Hart are still scribbling furiously, Duke Ellington is on the road again and 52nd Street has plenty of night life left."